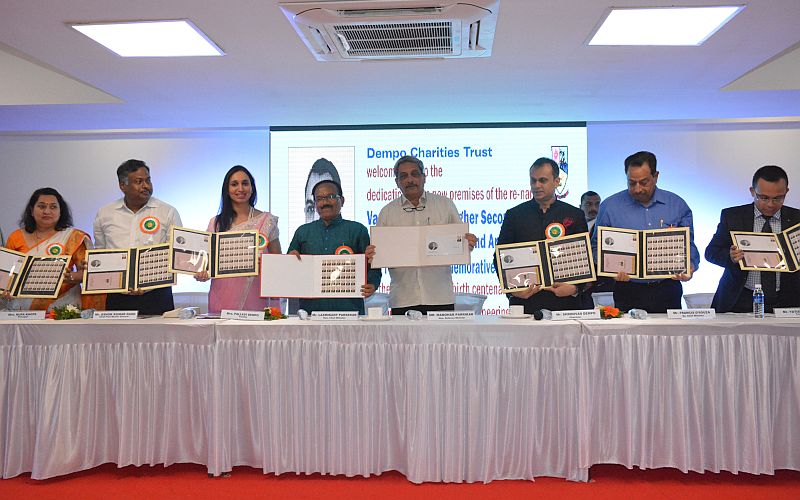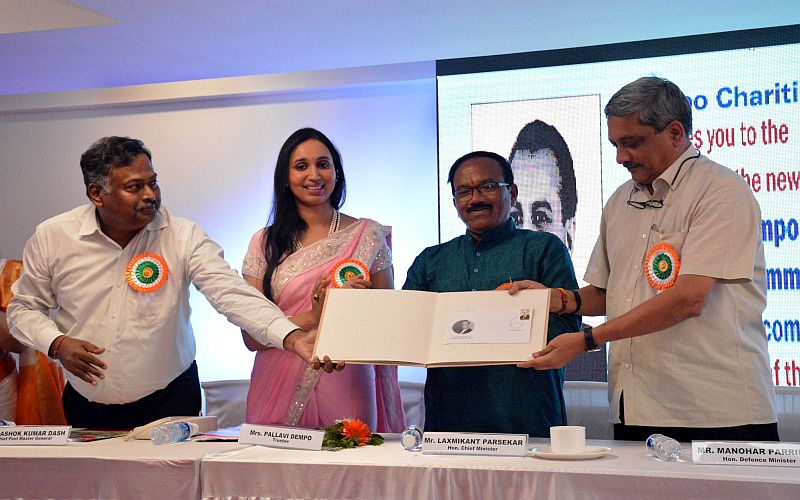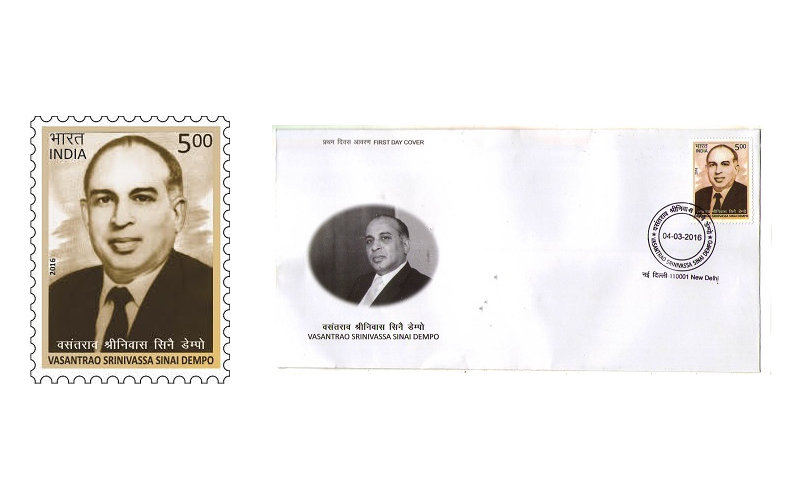 In a rare and fitting honour to a great Goan, the Department of Posts (India Post) under the Union Ministry of Communications and Information Technology, brought out a commemorative postage stamp on Vasantrao Srinivassa Sinai Dempo on his one hundredth birth anniversary on the 4th March, 2016. The late Vasantrao is only the third Goan to be so recognised, after thinker and scholar, Dharmanand Kossambe and fine artist, Dinanath Dalal.
The stamp was released at a function to mark the centennial of the Dempo patriarch at the new campus of the Vasantrao Dempo Higher Secondary School of Science, Commerce & Arts at the new Integrated Education Complex at Cujira, Santa Cruz, Goa. At the event which was marked by the presence of a glittering array of dignitaries from government and civil society, including Dempo family members and school teachers and students, a number of social initiatives were also announced by Shrinivas V Dempo, chairman of the group of Dempo entities. Chief guest at the function was Union Minister of Defence, Manohar Parrikar, while the guests of honour were Goa Chief Minister Laxmikant Parsekar and Deputy Chief Minister Francisco D'Souza. Among the special invitees was South Goa MP, Narendra Sawaikar.
The message of the Union Minister of Communications and Information Technology, Shri Ravishankar Prasad on the stamp issue and release was read out on the occasion by the academic head of one of the educational institutions governed by the Dempo Charities Trust, Principal Dr. Radhika S. Nayak of the S. S. Dempo College of Commerce & Economics, Panaji, which celebrated its golden jubilee in 2015.
Releasing the postage stamp on the occasion was Shri A K Dash, Chief Post Master General, Maharashtra Circle, in the presence and under the supervision of the Union Defence Minister with the guests of honour, Chairman Dempo and Trustees Ms. Pallavi S. Dempo and Mr. Yatish S. Dempo joining in to unveil the blow ups of the stamp following its release.
All in all, the name of the man who was chief among a handful of the makers of modern Goa, Vasantrao S. S. Dempo, goes down in posterity as much as it has remained a part of recent history!