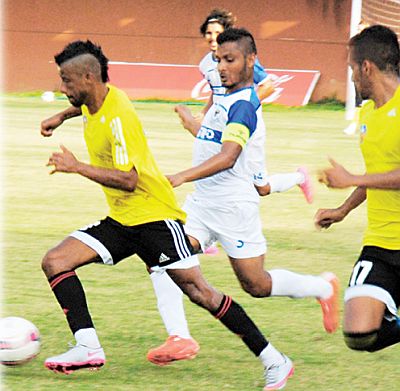 FC Goa defeated Dempo Sports Club 3-1 in a practice match played at Tilak Maidan in Vasco, on Monday, 28th September.
Romeo, Leo Moura and Darryl Duffy found the back of the net for the Goan franchise while Germanpreet Singh scored for Dempo SC.
Coach Zico started with Elinton Andrade in the goal, Lucio marshalling the defence alongside Gregory Arnolin and Victor Simoes in the attack. The Goan duo of Romeo Fernandes and Mandar Rao Dessai started in the midfield.
Dempo began the match on the front foot and tested the Gaurs through Bevan D'Mello and Uttam Rai in the opening exchanges.
Coming into their own, FC Goa had few chances but Simoes' powerful drive and Jofre Mateu Gonzalez's curling effort both lacked accuracy.
In the 21st minute, Jofre put in a delightful pass to Mandar who relayed it to Simoes setting up Romeo on the right side. However, Dempo goalkeeper Tyson Caiado comfortably blocked the Goan poster boy's shot.
FC Goa had their second chance to take the lead but Moura's shot ballooned over the bar of Mandar's corner.
At the half-hour mark, Germanpreet Singh's gave Dempo SC a surprise lead when he intercepted Andrade's poor pass to Keenan Almeida before placing into the net.
However, Dempo's lead did not last long as Zico's men regrouped and scored a quick equaliser.
Mandar's cross found Romeo on the receiving end and the latter made no mistake in slotting past Dempo custodian, levelling the score 1-1.
Andrade was required to make a good save to tip a shot by Velito Cruz from just outside the box as the teams walked into the break tied at 1-1.
Crossing ends, Lucio could have made it 2-1 but only to be denied by the cross bar.
FC Goa looked a better side post the half-time pep talk by Zico and held the advantage in terms of ball possession that reflected well with Moura's fantastic curling shot at the hour mark from outside the box which outstretched Caiado could do nothing about.
Moura and Jofre made way for Jonathan Lucca and Darryl Duffy for the final 15 minutes of the game and it took Duffy just two minutes to get his name on the score sheet. Simoes pushed the ball forward on the left which the Scot placed in the far corner.
Lucca saw his shot go wide a few minutes later and again failed to find the target after some good interplay between Duffy and Vitorino Fernandes.
Dempo tried desperately in the dying minutes of the game, but Zico had to be content with a much better second- half performance that earned his side a win with a convincing score line.