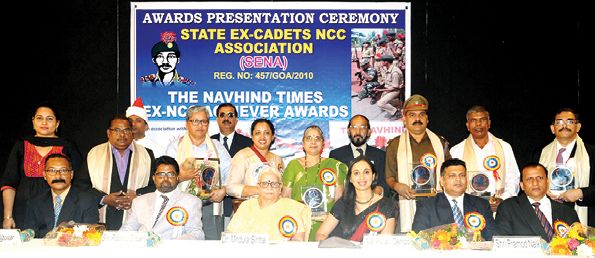 Governor, Mridula Sinha was the Chief Guest at The Navhind Times Ex-NCC Achievers function organised by the State Ex-Cadets NCC Association at Kala Academy yesterday.
In her speech she said that the training imparted by the NCC instils character and virtues of dedication, discipline, commitment and team work. She went on to say that although the NCC is going strong in the country there is a need increase its base even further. More school and college students must be encouraged and motivated to join the NCC.
She also went on to say that it was a moment of great joy and a privilege for her to be amongst erstwhile members of National Cadet Corps. Sinha expressed a feeling of nostalgia as she was reminded of her NCC days. She said her husband was a NCC cadet too.
Executive Director of The Navhind Times Pallavi Dempo congratulated the awardees and said that it was a proud moment to be associated with the programme. She said that her organisation strives towards addressing social causes. Achievers awards were presented to Kiran Budkuley (teaching), Pandurang Hegde (business), Hemkant Bhangui (legal profession), Sucheta Dessai (Dy SP Police Services), Mahesh Naik (sports), Siolvano Fernandes (hospitality industry), Sanjay P Sawant Dessai (ANO), Avinash Bhosle (politics) and Ibrahim Afgan (literature).
Prizes for winners of Essay competition held by the association for the topic 'My memories as an ex-NCC cadet and how it has benefitted me' were presented at the function. First prize was awarded to Radhika Sankholkar, second prize to Mavis Henriques and third prize to Belinda Veigas; consolation prizes were awarded to Smriti Kothare and Vikrant Prabhudesai. NCC best cadet awards were presented on the occasion as well; Devraj Golkar, SUO Sharadhi S, Nakul Gurav, Pranav Naik, cadet Diksha Borkar and Princy Phadte.
The Governor, an EX-NCC cadet herself, was also honoured on the occasion with the Ex-NCC achievers award at the hands of Pallavi Dempo. The new committee was also installed on the occasion. Venugopal Nair administered the oath of office.
The Ex-NCC achievers awards have been instituted by The Navhind Times publication together with the ex-NCC association for Ex-NCC achievers.
The selection was made by a committee headed by Shubir Sansguiri and comprising of Maj. Venugopal Nair and John Aguiar. John Aguiar in his speech gave a brief idea about the project and said that the awards had been instituted since 2007.