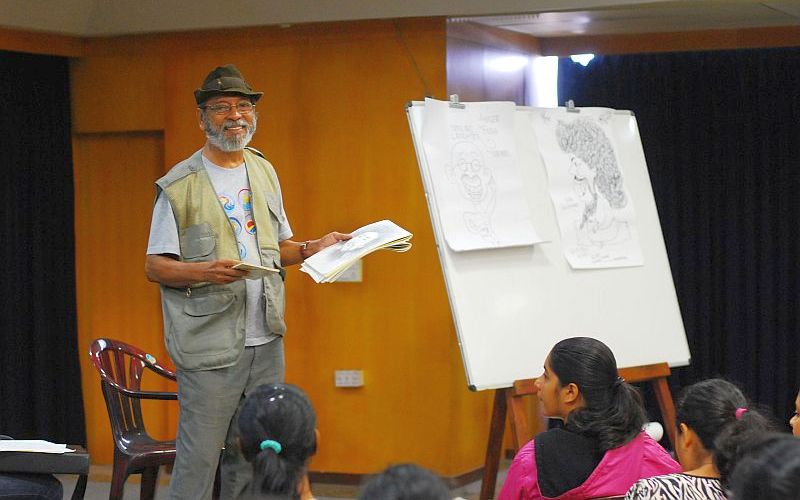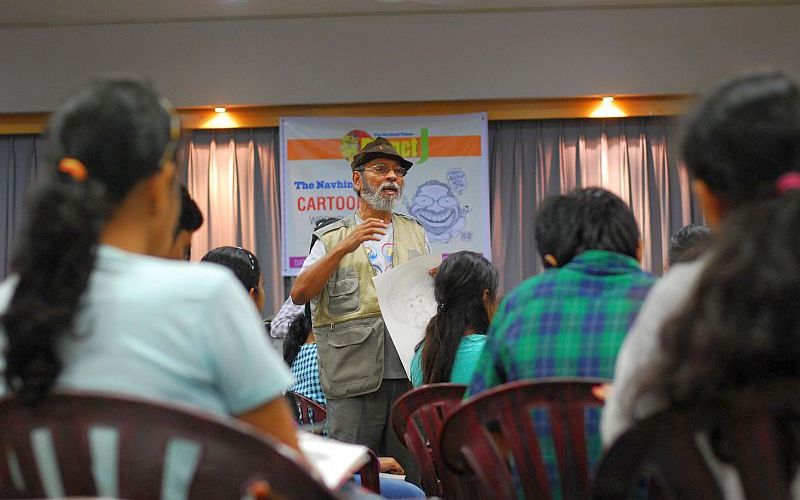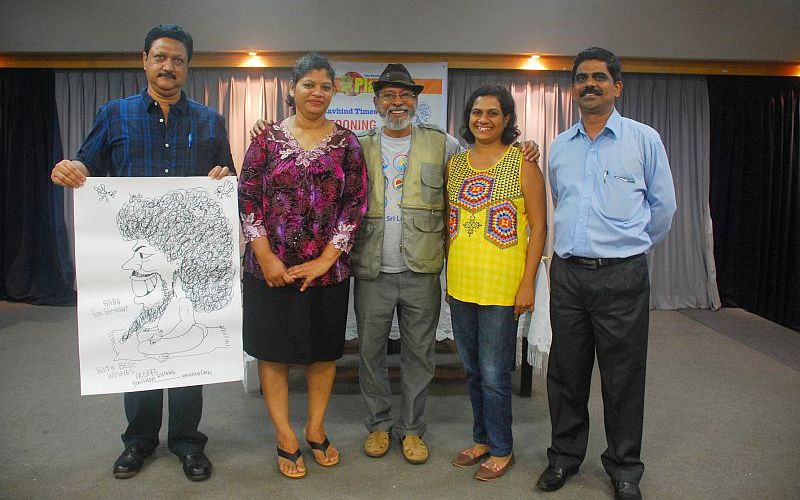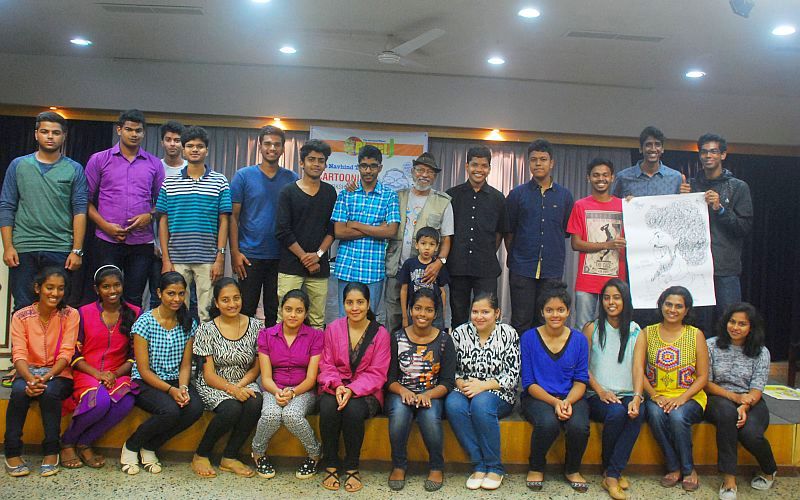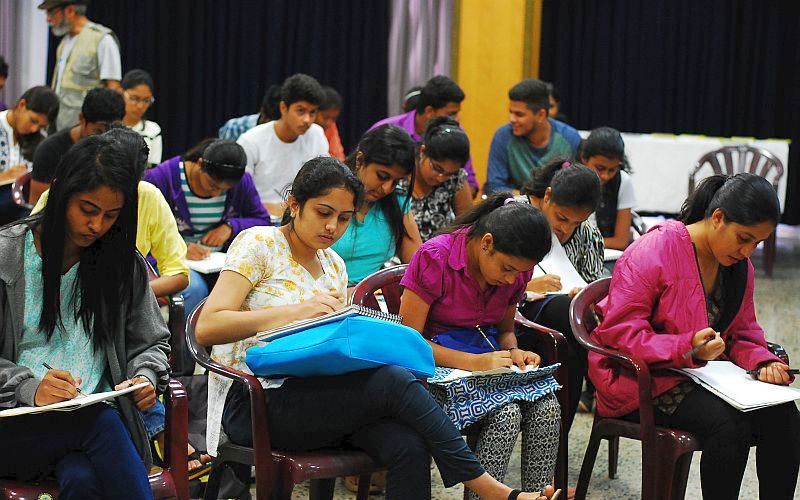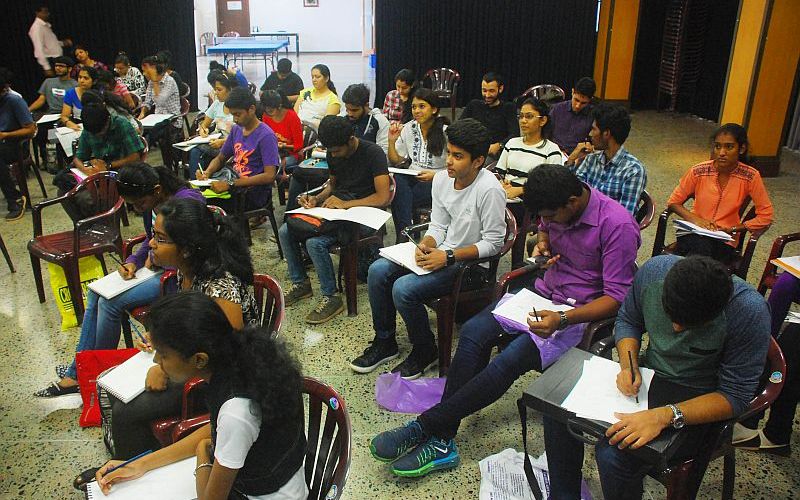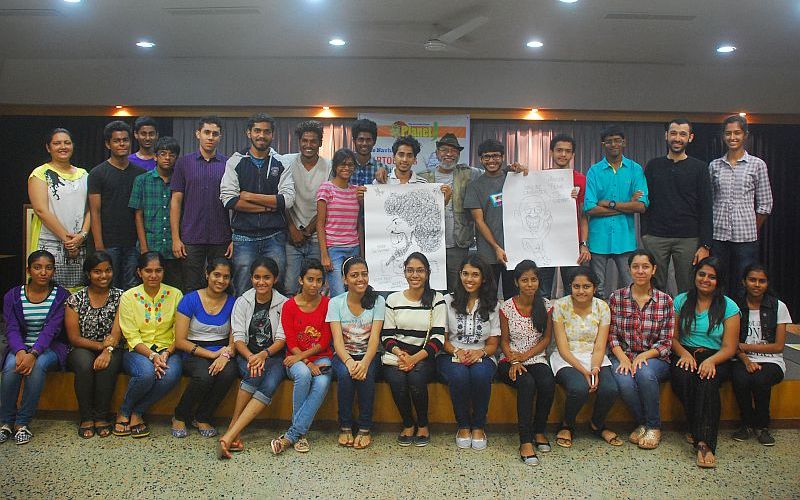 "This is not a workshop but a funshop," declared Gos's most-loved cartoonist Alexyz; as he addressed the participants at Planet J's cartooning workshop at Dempo House, Panaji. The half day workshop which aimed at giving participants tips on creating caricatures that were not just funny but also thought-provoking; was held on Sunday, February 28 and was open to those between 16 and 25. However parents too wanted to participate and were welcomed along with six-year old Athan who was the youngest participant.
Alexyz had planned the workshop with fun as the main component and to prove it, he started with laughing exercises. Hasya yoga which he practices himself, he said, is very important to get into the mood of drawing caricatures. The participants were initially shy but by the third round were well into it and laughter could be heard throughout the building!
Alexyz then spoke about his journey as a cartoonist and also mentioned Shankar Pillai, India's premier political cartoonist. He also spoke about different types of cartoons and a career in the field. At every point he encouraged participants to interact and have fun.
Next on the agenda were caricatures depicting different emotions and he gave pointers on how to depict these emotions. The most interesting part of the workshop was when participants had to draw a caricature of The Navhind Times' photographer, Hemant Parab. Introducing the model to the participants, Alexyz said, "In the whole of Goa, you will not find another like Hemant as he has such distinct and unique features. So let's see how creative you can get."
For nearly twenty minutes, Hemant posed patiently and participants could be seen frantically working at their creations. Each and every caricature that the participants produced were amazing and their creativity and talent could be clearly seen. The best representation was by Savni Pai Panandikar and she was presented with a prize by Alexyz.
The workshop ended with certificates of participation being handed out by Alexyz.
With the curtains down on this one, The Navhind Times is gearing up for its next workshop so keep yourself informed!
It was simply superb abd I have no words to describe the experience. I learnt a lot and also had fun.
It was a great funshop and I really enjoyed it. I learned cartooning can be easy and I also met with Alexyz.
It was a fun and helpful workshop. Thank you.
It was great to be a part of this workshop. Alexyz is a wonderful trainer and such a humble person.
A lakh sees…' thats what the workshop taught us; to see the minute details and add a new dimension to it Thanks a lot Alexyz for making it a fun workshop.
It was my first attempt at cartooning and I thoroughly enjoyed it. Thank you Planet J and Alexyz.
Awesome show. Thank you Alexyz and The Navhind Times.
Truly a funshop! Learnt soooo much. I'm going to be drawing so much more now. No one can teach like Alexyz! Thank you very much.
The day was fun because of the Funshop with Alexyz. Looking forward to meeting him again.
Alexyz taught us different art strokes and ways of drawing and cartooning.
It was a great experience and receiving the prize has encouraged me to do more cartooning. Thanks to The Navhind Times and Alexyz for this opportunity.
'Caricature'… my first try at it but I enjoyed it and had a great time and experience. Looking forward to more workshops.
Alexyz gave us the right push and motivation which can help us to grow in art especially in cartooning.
It was a very informative workshop and I really liked the details that Alexyz explained. His perspective about caricature is very unique and inspiring. Thank you Planet J for this informative workshop.
Besides learning a lot about caricatures I also learnt to laugh more.
Alexyz managed to give one to one attention to all of us. I had a nice time.
It was an inspiring workshop.
Amazing workshop! Finally learnt how to sketch.
A productive workshop however it could have been more structured. I enjoyed it!
It was an amazing workshop and I enjoyed it.
It was a really nice workshop and we got some good tips.
I loved how this funshop let us express ourselves. We laughed a lot and learned just as much.
Nice workshop. Had an amazing time and learnt something new. Thank you Mr Alexyz.
I liked the laughter sessions.