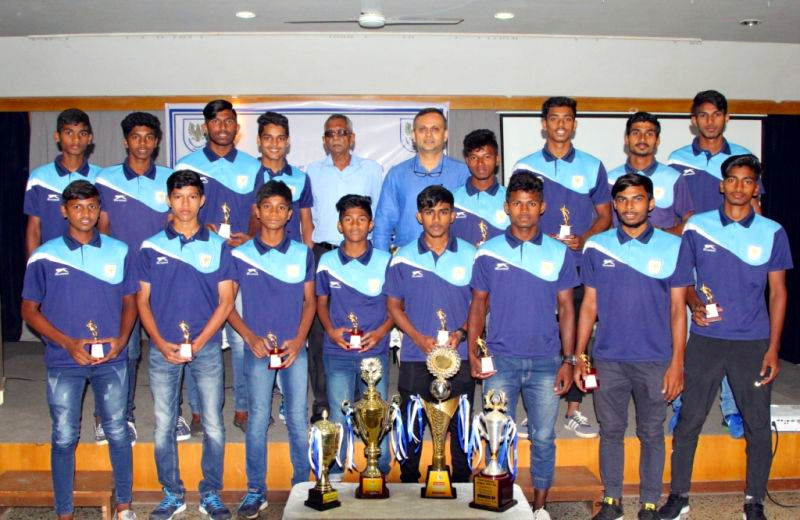 Dempo SC organized their first ever awards day for the youth development squads from the age groups of 14 years to 20 years. The event was attended by Club President Mr. Shrinivas Dempo and Senior Team Head Coach, Samir Naik. Also present was Dempo SC Technical Director-Youth Development Mr. Karnagaran Naidoo.
Club President Mr. Shrinivas Dempo in his address congratulated the Dempo SC youth teams for winning the U-14 and the U-18 titles this season. He reiterated his commitment to developing grassroots and youth football in Goa and placed on record his vision of seeing maximum number of his youth players graduate to the senior squad.
Technical Director- Youth Development Mr. Katz Naidoo congratulated the technical staff for their commitment and hard work throughout the season and reiterated that now with the bar being raised, they would have to work harder to keep up the high standards set this season. The entire technical staff was also presented with mementoes at the function.
The Award Winners
U-14
Best Goalkeeper: Sail Parulekar
Best Defender: Shivam Pandey
Best Midfielder: Dwayne Neto
Best Striker: Shreyash Naik
U-18
Best Goalkeeper: Manjunath Hirekurbar
Best Defender: Rayan Pinto
Best Midfielder: Larryl Mascarenhas
Best Striker: Aaron Alvares
U-16
Best Goalkeeper: Nikil Kariyappa
Best Defender: Maximo D'Costa
Best Midfielder: Stewart D'Mello
Best Striker: Fedrich Fernandes
U-20 and First Division
Best Goalkeeper: Wassim Sheikh
Best Defender: Brivon Dias
Best Midfielder: Floyd Pereira
Best Striker: Baggio Fernandes