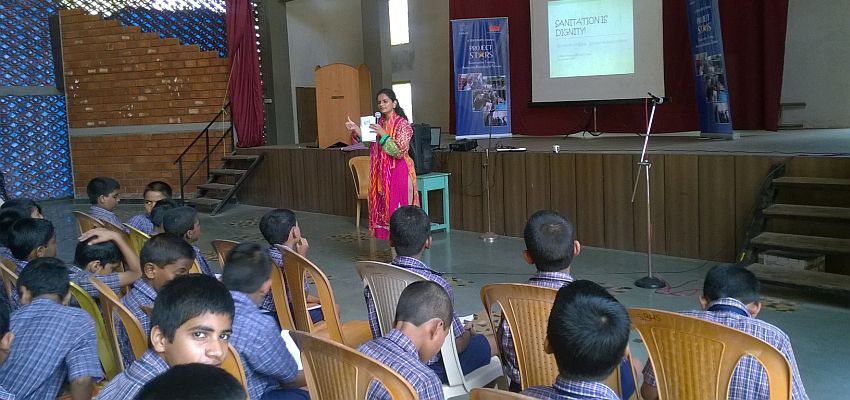 Date: 5th October, 2015
Time: 10.00 am to 12.30 pm
Venue: St. Bartholomeow High School, Chorao.
Need and objective of the workshop:
Under the hardware intervention component at this school, a sanitation provision for the elementary section was made. This entailed the setting up of a toilet block for nursery students as there was no separate facility for them.  Subsequent to this, to ensure that these facilities are used properly, there was a need to sensitize students to proper usage and maintenance of the facility. Water stress could also have implications on the maintenance of the sanitation facility and its usage. Hence in light of these, a workshop on WASH (water, sanitation and hygiene) was designed and conducted in the school.
Workshop structure and summary:
The workshop was made up of two modules.  One module covered the importance of water and its conservation, while the other one looked at sanitation and hygiene.
Water
The session began by impressing that water despite its abundance, is available in limited quantity as only 3 per cent of the Earth's water is 'fresh water' fit for human consumption.  To drive this point home, Ms. Shabana Kazi conducted an activity with the students.  The water cycle and importance of water (sector-wise) was discussed to emphasise how central water is to life.  A discussion was conducted amongst students on the various issues related to the water scenario in Chorao including instances of water being abused/misused as a resource. Students were also asked to share an experience (if any) wherein human health was impacted on account of poor water quality.
Sanitation and Hygiene
Ms. Saltanat Kazi got the students to think and reflect on the various impacts of not having a proper sanitation facility at home.  Students were explained how they were privileged lot if they have proper sanitation facilities at their homes/schools and thus needed to ensure that these are properly maintained.  Germ pathways and human health was discussed at length. The importance of proper hand washing before meals and after using the toilet was emphasised with students being asked to demonstrate the process. Personal hygiene and other good practices to be followed covering day to day life (while in the kitchen and toilet) were discussed. As water being central so as to maintain hygiene, a checklist to make the school and home water efficient was also shared.