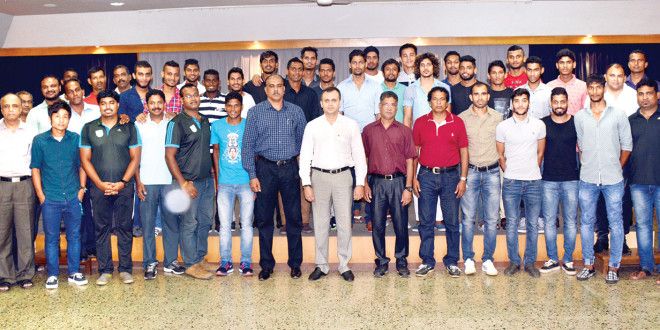 Five-time national champions Dempo SC, who will be seen plying their trade in the second division this season, Tuesday announced the appointment of Mauricio Afonso as their head coach and entrusted him with the responsibility of getting back the team into the I-League.
Besides the appointment of Mauricio, the Club also announced the appointments of others including Samir Naik as assistant coach, Katz Naidu as technical director of youth development programme, Richard Sanchez as goalkeeping coach and some new players, at a function held at Dempo House here.
Mauricio was chosen for the top post after earlier coach Trevor Morgan and other staff departed following their relegation from the I-League last season.
Dempo SC Chairman Shrinivas Dempo welcomed the players and spoke highly of Mauricio on his appointment as the head coach.
"Mauricio is a man of few words, very responsible person and absolute Dempo SC loyalist," said Dempo as he applauded Mauricio for his dedicated service to the club.
Putting to rest all the rumours surrounding the possible closure of the club, Dempo assured the players and the staff that such a thought has never crossed his mind.
"If my family has served football for last 50 years, we are here to serve it for the next 50 years," Dempo said as he assured and requested the players to waive all such thoughts and concentrate on football to get back the team into the I-League.
Dempo expects healthy competition in the second division and feels that promotion to I-League will be an uphill task for his club. He has therefore urged the players to be serious, work hard and play 'Dempo' game. "Please play Dempo game, that is, the team game," he advised the players.
Dempo SC will begin their campaign in this season on August 26 when they take on Vasco SC in Goa Professional League at Duler Stadium, Mapusa.