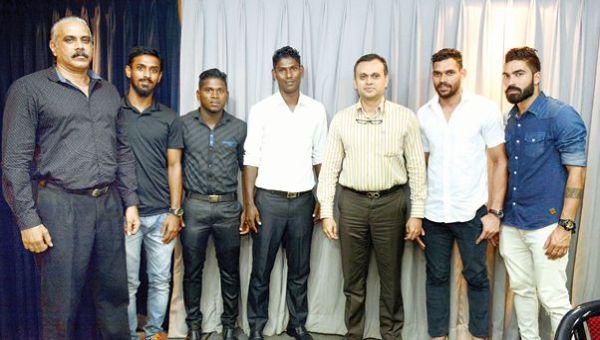 "Dempo SC has not taken a decision yet to withdraw from the I-league along with the other two teams from Goa. There is an important All India football Federation (AIFF) meeting next week which I intend to attend. I am hoping things will work out to the satisfaction of the Clubs. Even if matters at the I-league are not resolved to our satisfaction, Dempo SC will never close down," stated Dempo SC owner, Shrinivas Dempo in his address to his players on the eve of the start of season gathering.
"I want each one of you to believe in yourselves and give your best. Play seriously and look for avenues not only to star for Dempo SC but any other club you play for. It could be an ISL club or another I-league club. The idea is to give your best at all times," added Shrinivas Dempo.
"Whatever happens, make sure that football never suffers. We at Dempo are preparing ourselves for the next steps in the game. We want all of you to be prepared for the future too," stressed Shrinivas Dempo.
"Whatever decision is taken by the I-league, if it is not suitable to us, the three clubs – Dempo, Salgaocar and Sporting – will meet and we will find a way to keep all our players busy through the season. We are not here to just employ but to see that you all are gainfully employed." said Shrinivas Dempo.
"The last time, I had laid out a budget in front of coach Mauricio and asked him whether he was in a position to get the team qualified to the I-league, he promised and delivered. This is the attitude I want each one of you to inculcate," opined Shrinivas Dempo.
Dempo Sports Club has signed twenty nine players for this season. Five of these are new comers and they were introduced to the rest of the team by general secretary Wilfred D'Souza. Assumption Soares from Sesa Football Academy, Priyant K Singh, former goalkeeper from Mohammedan Sporting, Aadil Khan from Delhi Dynamo, Mario Mascarenhas from Cavellosim SC and Joaquim Crasto from the Dempo SC Youth development programme are the new faces in the Dempo jersey for the coming year.
"The Goa Police Cup is scheduled to be held on August 1. We have heard it may be postponed because of the incessant rains. The Durand Cup begins on August 28 and the Goa Professional League is scheduled to end by November. You all did us proud by qualifying for the I-league and we want you all to continue the fine work," stated Dempo SC General Secretary Wilfred D'souza.
"The land for the academy has already flattened and work on a natural ground and an artificial ground will commence soon. We are on track in building the facilities for an academy, "stated Dempo SC youth development in charge, Katz Naidoo." The senior team will have a ground of their own to practice," he added.
Making a welcome reappearance in the team and a welcome return to the Club is star striker, Joaquim Abranches, in earlier years a mainstay of the team for long. He, along with the other fresh signees is seen in the photo posing with Club President Shrinivas V. Dempo and General Secretary, Wilfred S. D'Souza. Signifying a new chapter in the glorious history of Dempo SC!