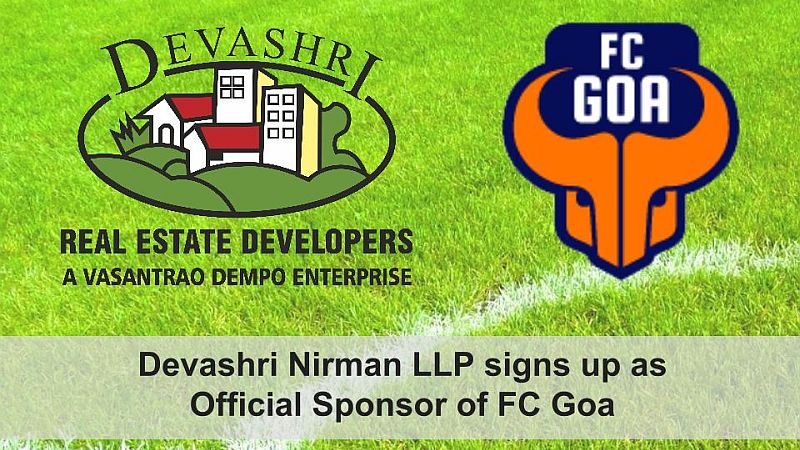 Football Crazy Goa's iconic soccer club FC Goa now has a local sponsor, one just as emblematic of Goa – leading real estate developer Devashri Nirman LLP.
The firm whose signature construction style has set standards for others to follow is officially to sponsor the Gaurs (as the club is known on account of its bison logo that represents Goa's state animal) during the Hero Indian Super League (ISL) 2015, India's most popular football event.
Said Shrinivas Dempo, the firm's Designated Partner and Chairman, Dempo Group of Companies, "We at Dempo who always supported football right from the grassroots up, are looking forward to seeing the elevation of the sport of football to a whole new level as the ISL promised in its inaugural edition last year and is all set to do this year and going forward. ISL has provided Indian football with the unique opportunity to create change and infuse fresh enthusiasm into the sport. We at Devashri are proud to be associated with the beautiful game, also the state sport of Goa"
The sponsorship is part of Devashri Nirman LLP's commitment to building not just landmark residential and commercial structures but the cultural identity of Goa, with football providing the link to the hearts and minds of Goans.
FC Goa was a natural choice for Devashri with all its concerns crystallising into support for the club- its Goan identity, the sport of soccer and its idealism as a team pledged to excellence and fair play, which have been the traditional Dempo articles of faith.
Devashri are rallying to the support of FC Goa with cries of 'Força Goa!', in the belief that when the Gaurs get going, even the worthiest opponents have to step nimbly aside!