The Board of Directors of group company, Goa Carbon Ltd (GCL) met at Panaji on the 11th April, 2017 to take on record its audited financial results for the quarter ended the 31st March, 2017, and the year that ended on that date (see table of comparative figures, both standalone and comparative, for the accounting periods relevant, duly signed by the Chairman of the Board, Mr. Shrinivas V. Dempo). The detailed report from which this extract is taken can be accessed from the company's website, www.goacarbon.com.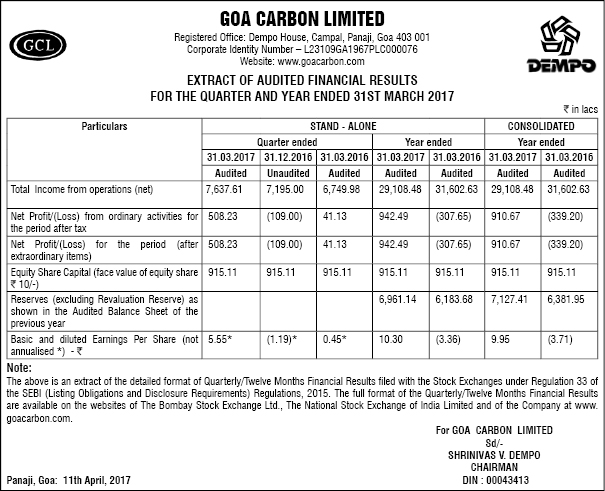 GCL reported a standalone net profit of Rs 5.08 crore for the fourth quarter of the year that ended on the 31st March 2017 (Q4, FY 2016/17), as against a profit of Rs 41 lakh in the same quarter of the previous fiscal year (the 31st March 2016, Q4, FY 2015/16).
The total income from operations of the company (manufacture of calcined petroleum coke) during Q4, FY 2016/17 rose by 13% to Rs 76.37 Crores against Rs 67.50 Crores notched up in the corresponding quarter of the previous financial year, 2015/16.
On a year-to-year comparison, GCL reports a consolidated net profit of Rs 9.11 Crores in Fiscal Year 2016/17, vis-a-vis a loss of Rs 3.39 Crores during Fiscal Year 2915/16.
The GCL Board of Directors were pleased to recommend a final dividend of Rs 3 per share, in addition to the interim dividend of Rs 1.50 per share declared on the 13th January, 2017.
All at the Dempo Group congratulate Goa Carbon Ltd and wish the company well in the year ahead!