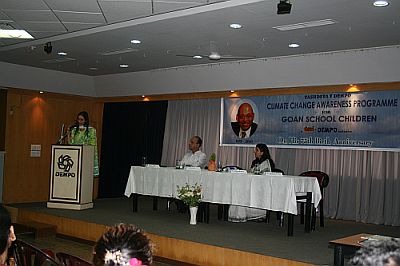 An initiation workshop was organised on 8th September 2010 for all the participating schools at Dempo House, Panjim between 10.00 am to 1.00 pm. Fifty teachers spread across twenty-seven schools attended this programme.
Ms. Livleen Kahlon, Fellow and Area Convenor (Environment Education Awareness, TERI) made the welcome address and emphasized the importance of working with the youth on issues related to the environment.
Mr. B T Boke (Senior General Manager, Dempo Group of companies) was present on the occasion and made the opening remarks. He highlighted the role of Dempos and its contribution to the Goan society, and their commitment to education initiatives in particular.
Ms. Pallavi Dempo (Executive Director, Dempo Industries Pvt. Ltd) delivered the special address for the day where she urged the schools to work in a committed manner so as to make the 'The Vasudeva V. Dempo' Climate Change Awareness Program a huge success.
Ms. Shabana Kazi (TERI) then presented the project overview where she informed that this being a two-year long program, it primarily aims to raise awareness and understanding about climate change issues amongst students and teachers from thirty schools across Goa.  She stated that the project would employ activity and experiential methods, such as games, competitions, one-on-one interactive workshops and field visits to sensitize students to climate change. She also informed that resource material, including teaching aids would be developed and disseminated to all the 30 schools. A web page would be developed and linked to its existing site on climate change education.
Mr. A Gramopadhye (Former Education Officer, WWF) made a presentation on the environmental issues of Goa in the context of climate change where various environment issues related to climate change were flagged off.
A pre-programme assessment was also undertaken which was then followed by capturing the workshop feedback from all participants.