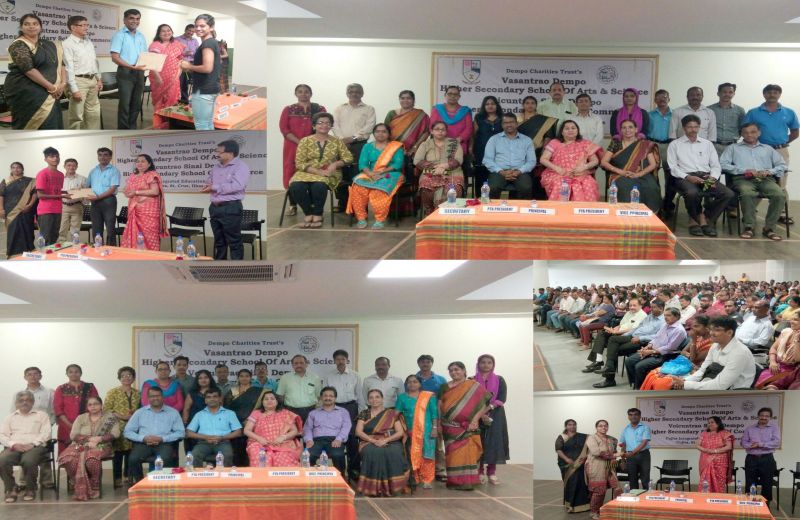 The Annual General Body meeting of the Parents' Teachers Association of D.C.T's Vasantrao Dempo H.S.S. of Science, Commerce and Arts, Cujira, St. Cruz, was held recently. The outgoing P.T.A. President of the science and Arts stream, Shri. Prashant Kuncoleinkar gave the welcome address.
The P.T.A. felicitated the meritorious students who topped the institutions in all the three streams i.e. Science, Commerce and Arts at the hands of Shri. Kuncoleinkar, P.T.A. President and Shri Ramarao Wagh, P.T.A. President of Commerce stream. Principal, Mrs Rupa Khope, Vice Principal Mrs. Rekha Keni Gurrala and Treasurer, Shri Dhiraj Vengurlekar.
Principal, Mrs. Khope spoke on the topic 'Skills on good parenting'. She stressed on the point that parents are role models to their children. She urged the parents to treat their adolescents like friends, but discipline them by being assertive. She emphasized the need to understand the potential of the child and the need to encourage them. She thanked both the outgoing P.T.A. presidents for their support and help especially for the SMS facility which was made available at reasonable rates. She impressed on the parents not to provide vehicles to their under age children and that they themselves should adhere to all the traffic rules.
Earlier, the discretionary holidays for the academic year 2017 – 18 were ratified with the permission of the house. The minutes of the last P.T.A. AGM were read out by the P.T.A. Secretary, Miss Vanaja Mudaliar and the same were confirmed. The P.T.A. Treasurer, Shri. Dhiraj Vengurlekar presented the Statement of Accounts for the financial year 2016 – 2017 and the same were confirmed.
The office bearers of the P.T.A. Executive committee for the year 2017-2018 were unanimously selected.
The names of the office bearers are as follows:-
P.T.A. President
Shri. Milind Natekar
Vice President
Mrs. Pritam Sinai Kerkar
Secretary
Ms. Vanaja Mudaliar
Joint Secretary (Parent)
Shri. Divesh Kumar Jaswal
Joint Secretary (Teacher)
Shri. Shirish Bhide
Treasurer
Shri. Dhiraj Vengurlekar
Joint Treasurer
Mrs. Shilpa Silimcan
Internal Auditor
Shri. Pandurang Mayanath
Members:-
Shri Jose Mario Po, Mrs Reshma Rajesh Rao, Shri Sushant Pai Kane, Shri Manoj Mahale, Dr. Vinit S. Dandiwdekar, Mrs Pooja Pandya, Mrs. Shabina Shaikh, Shri Ramesh Mahale, Mrs, Sujatha Batkar, Mrs Hasina Shaikh, Mrs. Luela Fernandes, Shri Krishnanath Naik Prof. R. Roy and Shri Raghoba Gawandi.
Teachers Members:-
Mrs. Saroj Tendulkar, Mrs Surekha Kelkar, Mrs. Maya Sardesai, Mrs. Aparna Davlikar and Mrs. Roselyn Luis.
The new P.T.A. President, Shri. Milind Natekar proposed a vote of thanks, while P.T.A. Secretary, Ms. Vanaja Mudaliar compered the function.