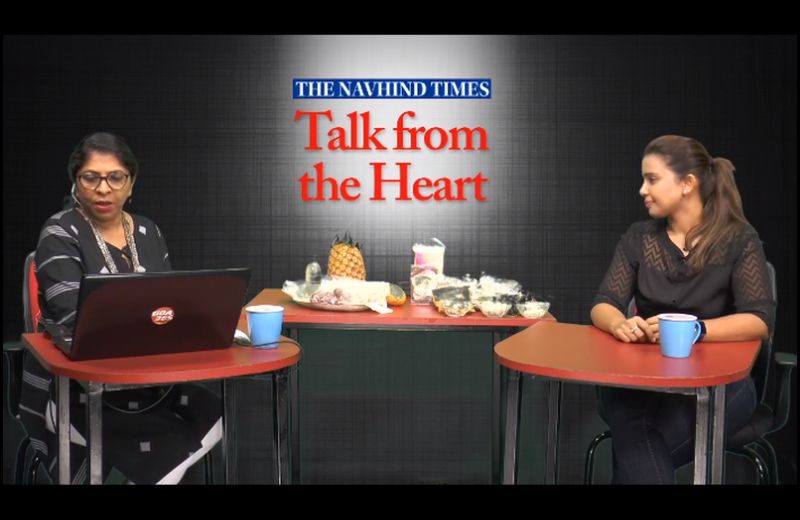 The Navhind Times held the 1st live episode of 'Talk from the Heart' on the Goa365 channel on Sunday, May 24 from 11 a.m. to 11.30 a.m. One of India's leading experts on nutrition and author of the book "Nourish with Food & Flourish with Health"; a miracle guide to eating right, taking responsibility for your own health and protecting that of your families and friends, Harpreet Pasricha, was the guest on the maiden show.
The live series will have eminent personalities from various fields, sharing their knowledge, giving expert tips and answering queries that viewers can send online.
Pasricha began the talk by explaining about neutrogenomics a field she has studied besides paediatric and sports nutrition. She then spoke at length on the importance of immunity and its role in overall wellness. Alcohol, stress, processed foods, aerated beverages, insufficient sleep and lack of exercise she stressed, weaken immunity. "A well balanced diet is what is important and please do not go on crash or fad diets or avoid any food groups," she warned. She then spoke about the benefits of incorporating Indian herbs and spices like cinnamon, kadi patha, jeera, ajwain, green chillies, etc regularly in the diet. "These have anti-bacterial and anti-microbial properties and should be used to advantage," she stated.
Having a sleep cycle she explained was as important as having ample hours of sleep and also went on to elaborate on the significance of de-stressing to maintain and increase immunity. "This virus is going to be around for some time hence it is imperative that we build our immunity and be ready to move out."
Answering to a question sent by a viewer, she said, "Super foods are basically foods that are available in our kitchens and are power packed with nutrients. If they are used rightly in our diets, their benefits are many fold. They help in improving our overall metabolism, replenishing nutrients, helps skin, hair and much more." Lotus seeds (makhana), chia seeds, amaranth, turmeric, coconut oil, flax seeds, melon seeds, homemade white butter, basil seeds (sabjah) were some examples of super foods that she gave. Encouraging the use of these foods, she added, "Amaranth is easily available, high in protein and has almost a similar nutritional value as that of quinoa and is one fourth the price of it. It can be used to make rotis, eaten as a snack and is very good for children."
She also gave a list of Goan super foods like kokum, jackfruit seeds (boiled or roasted), amla, sprouted cashew seeds, moringa (drum stick). "Most of them are there in our back yards and some of them are now becoming popular in the west like kokum, which is sold as Garcinia Cambogia and is very expensive."
Viewers were sending in many questions that ranged from diets to super foods and more. However all questions could not be answered due to paucity of time. The next talk promises to be even more interactive!