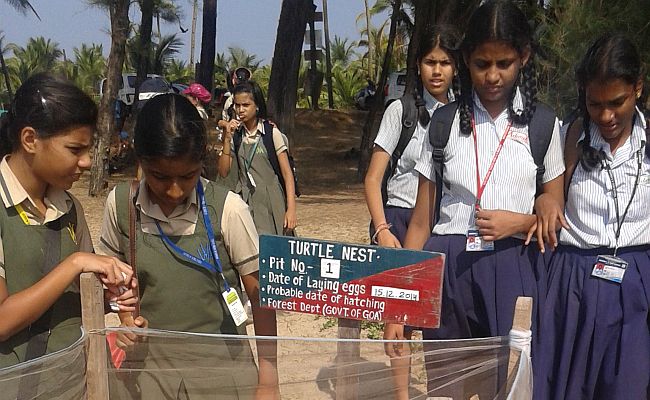 Report of the biodiversity field visits undertaken
As per the planned software interventions, two field visits to observe and learn more about local biodiversity (flora and fauna, in particular) were conducted for all 10 schools. A short summary of the two visits is as follows:
Field Visit to Cotigao Wildlife Sanctuary and Turtle Nestling Sites in Galgibag
A field visit to the Cotigao Wild life sanctuary and turtle nestling sites in Galgibag was undertaken targeting schools based in South Goa. This visit was conducted on 16th January 2015 from 8.30 – 3.30 pm. There were a total of 32 students and 4 teachers from Vidya Vikas Academy, Adarsh V V High School and Sarvodaya Education Society High school.
The sanctuary located on the southeast of Goa encompasses an area of almost 86 sqkm and is representative of the ecosystem in the Western Ghats region. The vegetation is mostly moist-deciduous type, interspersed with semi-evergreen and evergreen patches. A forest trek was undertaken to see the main highlights of this reserve which included a 25m-high treetop watchtower, overlooking a waterhole that attracts a handful of animals around dawn and dusk. The Nature Interpretation Centre run by the Forest Department is a valuable repository of knowledge as it houses a multitude of wildlife exhibits and a mini-library. Students were also taken to the Butterfly garden to see the different endemic species of butterflies of the Western Ghats found in Goa.
Later students were taken to the Galgibag beach to see some of the turtle nesting sites. Olive Ridley turtles (Lepidochelys olivacea) visit the beaches of Morjim, Agonda and Galgibag for nesting every year during October to April. The Forest Department guide on duty mentioned how turtles come to the shore keeping a particular distance from the water body to lay their eggs by moving sand and then going back to Sea. He informed that the depth of the hole is just 1 arms distance which the turtle digs and it takes about 50 days for them to hatch. Once the egg hatches, the new young turtles naturally go towards the sea by hearing the sound of the waves. He also warned that in Goa, these eggs are not safe because international tourists consider these eggs a delicacy and hence they require utmost protection. The Forest Department has thus been posting its watchmen at these nesting sites to guard them constantly through day and night.
Field Visit to Mhadei Wildlife Sanctuary
The second field visit to learn more about the biodiversity of Goa was undertaken at the Mhadei Wildlife sanctuary in North Goa targeting the schools based there. This visit was conducted on 4th February 2015 from 8.30 – 3.30 pm. There were a total of 42 students and 5 teachers from Santo Miguel High School, Our Lady of Succour High School, Lourdes Convent High School and Government High School, Alto-Betim.
This sanctuary is located in Sateri taluka at the northern part of the Western Ghats of Goa. It is one of the richest sources of biodiversity in the State, with many sacred groves housed inside of the reserve. Spread over 208 sq.km, this sanctuary supports a wide variety of wildlife and is famous as a bird watcher's paradise. It is considered as an International Bird Area, and is home to 255 bird species, including Nilgiri wood-pigeon and crimson-backed sunbird.
Students were again taken on a trek where they could see an amazing array of butterflies. Mr. Paresh Porob (Forest Range officer) conducted the guided trail for the students.  He informed that over 257-recorded species of butterflies flutter around this reserve. He also said that due to the presence of resident Bengal tigers, the sanctuary has been proposed as a tiger reserve. Along with the diverse fauna, it is also popular for its variety of flora that includes sacred groves, creepers, evergreen species of Ashoka and colourful flowers, among others. Besides its unique biodiversity, Mhadei Wildlife Sanctuary is also popular for its cascades, especially Vazra Sakla waterfalls and Virdi Falls.
Students were also taken to a rubber plantation and the polyhouse to see how rubber sheets were made and then sold to various companies. The students also visited a sacred grove patch which was like fresh water mangroves, as the root system of these trees were above the ground. Adjacent to this patch was a natural spring which had medicinal properties, and students also collected waster from it.
References:
http://www.goatourism.gov.in/destinations/sanctuaries/161-cotigao-wildlife-sanctuary
http://www.sanctuariesindia.com/mhadei-wildlife-sanctuary/