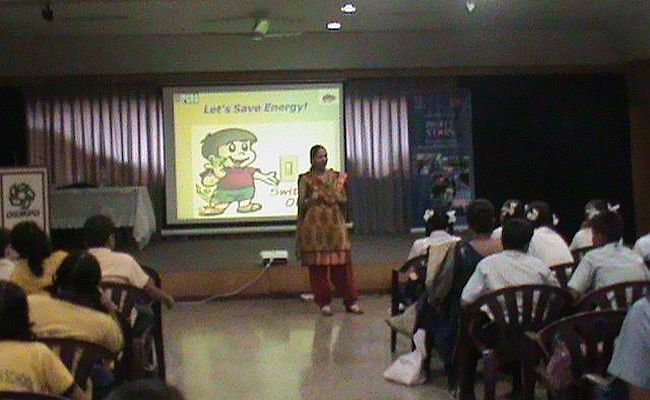 As part of the consultation process with schools to identify areas of sensitization and training, one area that was requested was with regard to natural resource conservation.  With this in mind, a half day training workshop was organised on 21st November 2014, between 08.30 a.m. – 1:00 p.m. at the Dempo House, Panaji, Goa.
Three thematic areas – energy, water and bio-diversity were taken up and under each of the themes the following structure was followed;
To provide an overview of the thematic areas and the issues of concerns for each area
To motivate students and teachers to take action relating to conservation in each area
A total of 73 participants (65 students and 8 teachers) attended the workshop from the 8 project schools.
Introduction to the workshop
Ms. Shabana Kazi (Research Associate, EYSD, TERI) presented the objectives of the workshop and introduced the various thematic areas that would be covered during the course of the day. She also presented the school wise plans drawn in relation to the projected interventions and activities, by clearly demarcated the role of TERI and the school in the same. This provided the member schools an overview of all the activities that would be undertaken under the project, and was open for discussion.
Water conservation
The session on water conservation was carried out by Ms. Saltanat Kazi (Consultant, EYSD, TERI). She first established the importance of water and its functions that make it a unique and life supporting resource along with its distribution pattern in terms of saline and fresh water across the planet. The water situation in India in terms of consumption across various sectors and the issues impinging the supply aspect were also discussed. The link between population growth and per capita consumption across the globe was presented visually so as to understand which countries have over the years got into a water stressed state from a water surplus state. Subsequently the Goan scenario was presented in terms of water supply, disposal, and consumption across various sectors along with the water demand-supply scenario. Conservation efforts that could be carried out at two levels, at the government and the individual level were presented.
Biodiversity conservation
Mr. A Heblekar, Principal, Forest Training School, Valpoi, Department of Forest, Govt. of Goa, conducted the next session on Biodiversity conservation. He first informed about the total number of sanctuaries and national parks in the state (being 7 and 1 respectively), and then differentiated between the two for the benefit of the students. He explained how the state is shaped like the letter "D", as it is divided into three distinct zones – the coastal plains, the plateaus and the Western Ghats and expounded how this influences the biodiversity present in these three zones. He emphasized how the biodiversity of the tree species in India is much more that those found in the temperate regions as well as other tropical forests. He also spoke about the Green India Mission and the aim to increase the forest cover in India to 33% from 24%. He also explained the concept of carbon points and carbon trading that emerged from the Earth Summit in Rio. He urged students to conserve the forest resources of the State and to take up a documentation exercise by compiling a list of trees, animals, insects, birds, etc. that are found in their vicinity (local biodiversity database). He further urged them to read about the biodiversity of Goa, as it is a part of the Western Ghats which is recognized as a biodiversity hotspot by UNESCO.
Energy conservation and efficiency
Ms. Anupa Khorjuvekar, Junior Engineer, Goa Energy Development Agency, Goa conducted the session on energy conservation. Ms. Khorjuvekar first informed that the per unit cost of electricity in Goa (Rs. 2.60/ unit) was much lesser than Maharasthra (Rs. 6.50/ unit). She stated that it was important to conserve energy in Goa, as despite the low cost, average per capita consumption is quite high as compared to other states. She then highlighted the meaning of energy conservation and urged the following good practices to be followed:
Lighting
Turn off the lights when not in use.
Take advantage of daylight by using light-colored, loose-weave curtains on windows to allow daylight to penetrate the room, use lighter colour paints on walls to reflect daylight.
De-dust lighting fixtures to maintain illumination.
Compact Fluorescent Bulbs (CFL) are four times more energy efficient than incandescent bulbs. She also explained the LED technology and how it contributes to energy savings.
Fans and electric iron
Replace conventional regulators with electronic regulators for ceiling fans.
Install exhaust fans at a higher elevation than ceiling fans.
Select iron boxes with automatic temperature cut off, and avoid the use of too much water on clothes while ironing.
Computer
Turn off your home, office equipment when not in use. For example, a computer that runs 24 hours a day uses more power than an energy-efficient refrigerator.
If your computer has to be kept on; turn off the monitor; as it alone uses more than half the system's energy.
Setting computers, monitors, and copiers to use sleep-mode when not in use helps cut energy costs by approximately 40%.
Battery chargers – such as those for laptops, cell phones and digital cameras, draw power whenever they are plugged in and are very inefficient. Pull the plug and save energy.
Screen savers save computer screens, not energy. Start-ups and shutdowns do not use any extra energy, nor are they hard on computer components.
She went on to inform that by 2060, LPG may not be available and so efficiency was the key.  In this connection, she went on to share handy tips on conserving fuel such as:
LPG
When cooking on a gas burner, use moderate flame settings to conserve LPG. Use small burners as opposed to big burners as this helps save fuel.
Use pressure cookers as much as possible.
Boil milk only till a light creamy layer is formed over it and boil water until 40 degrees.
Soak pulses overnight and while cooking add 1 spoon of salt and 1 spoon of oil as this makes the pulse porous which helps in cooking it faster.
Always cover utensils with lids as this prevents heat loss.
Always get frozen food to room temperature and then cook.
Clean burners regularly as that helps in saving fuel. Always maintain a blue flame.
Summarising and way forward
Ms. Shabana Kazi, summarized the workshop proceedings and urged students and teachers to plan and conduct the activities under the project in their respective schools. She then proposed the vote of thanks.