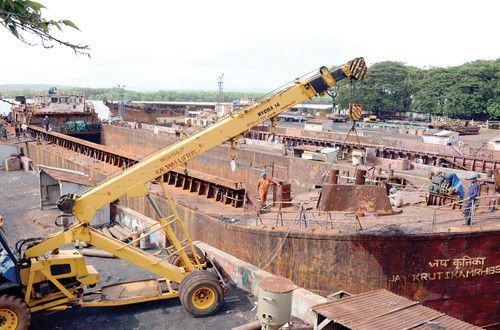 Dempo Ship Building endowed with a rich heritage in the history of shipping business in Goa is furthering its maritime interests in the defence sector, finds out Michael Fisher in an interview with Chairman of Dempo Group of Companies Shrinivas V Dempo.
Excerpts of interview – By Michael Fisher
How do you see the progress of 'Make in Goa' for Defence industries?
Marine Counter Measure Vessel (MCMV) project awarded to Goa Shipyard Ltd (GSL) by the Ministry of Defence is a big boost to "Make In Goa" initiative. GSL is scouting for local partners in Goa to manufacture various components required for the project and this will give a huge encouragement to local investors in Goa to set up manufacturing facilities for these components. Recently a big delegation consisting of about 30 South Korean manufacturers of these components visited Goa to meet local investors to explore possibilities of tie-ups with Goan investors.
What are the equipment India's Ministry of Defence proposes to `Make in Goa'?
The various components that will be required are GRP hull, superstructure and decks, out-fittings, deck machinery, electronic components, interiors, accommodation modules and panels, marine valves, weaponry, pumps and others.
Is the Dempo Group planning to make any of the equipment? Please name the equipment and likely output?
Dempo Group is very much interested in manufacture of equipment for naval ships and currently we are in the process of studying various options.
Does Goa have the infrastructure and manpower to support these industries?
Some of these equipment can be manufactured by upgrading existing infrastructure and for some other we may have to invest in new infrastructure. Although, we have adequate technical manpower in Goa, we may have to retrain them to acquire competencies required for manufacture of these equipments.
The winning of Rs 32,000-crore order for minesweepers by Goa Shipyard Ltd has rekindled the hopes of the dormant Goa's shipyards.  But do you think the local shipyards have the technology and competence to deliver as ancillaries?
While it is true that the big order of minesweepers has given huge advantage to GSL, even before this order GSL was quite busy in manufacture of vessels for Indian Navy and also for augmenting naval fleet of some of our neighbouring countries. The local shipyards have basic technology for construction of steel ships but they will have to go in for technical collaboration with international manufacturers for manufacture of ancillaries.
How is your shipyard leveraging for outsourcing of orders from Goa Shipyard Ltd?
We are currently in discussion with GSL to study various options of manufacture and supply of components.
Are Korean shipbuilding companies showing interest in setting up shop in Goa to do business under Make in Goa programme for defence and marine ancillary industries?
Yes.
Is your company in direct talks with any Korean companies for setting up a joint venture for building components for minesweepers?
We have held preliminary discussion with some of the Korean companies during their recent visit to Goa.
Will the orders for your joint venture also include interior designing of the ship?
All options are open at this stage.
Will your joint venture also provide electronics?
Not envisaged at this stage
How does this joint venture plan to leverage its business after the fulfillment of the Goa Shipyard orders?
The components manufactured can be supplied for other naval ships to be built by Indian Navy in future after fulfillment of GSL orders.
How is your shipyard in Gujarat doing in terms of shipbuilding projects?
Current recession in shipbuilding industry has affected order pipeline of our Gujarat shipyard. However, recent Government approval to our Gujarat shipyard to build warships and other naval support vessels has created huge opportunity for business growth of the shipyard.
The Centre has given you clearance to make naval warships in Gujarat. Can you give us an idea about the orders for naval warships?
We are currently studying various options of warships that can be built at our Gujarat shipyard.
Do you already have the technology to make naval warships or are you in the process of upgrading the technology for fulfillment of orders?
We have already built and delivered auxiliary vessels to Indian Navy in the recent past and we have the capability to build hi-tech and sophisticated sea going vessels. However, we may have to upgrade technology and manpower in our shipyard for fulfillment of orders of warships.