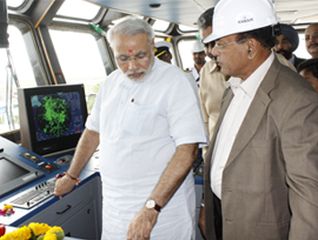 Singapore – based group company Dempo Global Corporation Pte. Ltd has taken the plunge into the shipping logistics business by offering its sea-going container vessel, the Petromar, to an international shipping and chartering company. The vessel, acquired from her builders, another group corporate, Modest Infrastructure Pvt. Ltd, has been delivered on bare boat charter to Madrid, Spain- based charterers, Boluda Fos Corporación S. L., at Bhavnagar Port, Gujarat, recently.
The Spanish company, also known as Boluda Maritima, is one of the leading players in global maritime services, with a presence throughout the Iberian coast, Portugal, France, Italy, the West African coast, the Indian Ocean and Latin America. Its sister concerns, Boluda Cargo International and Boluda Lines offer a comprehensive range of logistics services such as international and coastal shipping, container hire, charters, air transport, land transport, storage and distribution, special charges, customs clearance, and insurance.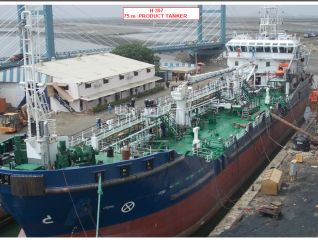 The Petromar, pictured here, began life as Hull 307 in the Ramsar shipyard at Bhavnagar, at whose launch, also pictured here, in the year 2013 the then chief minister of Gujarat, Mr. Narendra Modi was chief guest. Engineered to be manned by as few as five crew members, she is a 3300 DWT double-bottomed product tanker. Apart from being the latest symbol of the Dempo presence in global shipping!