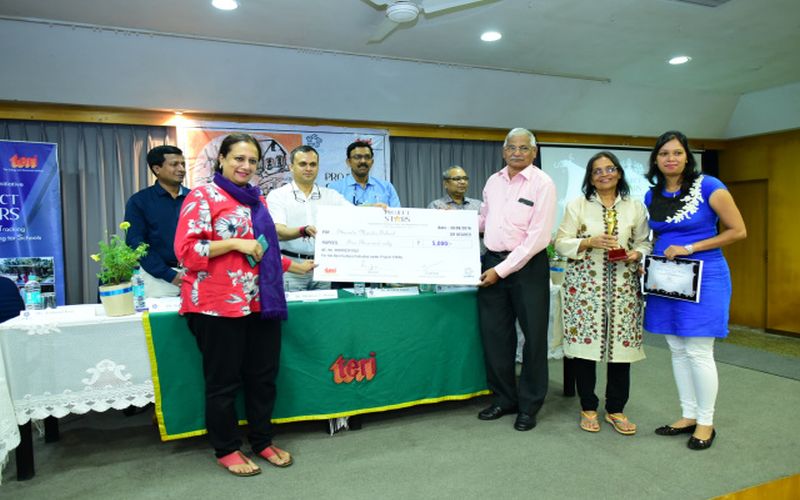 The valedictory function of the STARS Project, implemented by the Goa Area Office of the country's leading think tank on energy and the environment, TERI (The Energy & Resources Institute), and supported by the Dempo Group of companies as part of its commitment to sustainable development, was held at the 5th Floor Conference Hall, Dempo House, Panaji on the morning of the 30th August, 2016, three years to the week after its launch in the year 2013. Presided over by group chairman Shrinivas V Dempo and attended by managers, heads,  teachers and students of the ten schools which were part of the project, the programme was overseen and conducted by TERI officials, Dr. M. N. Sridhar Babu, Fellow and Area Convenor, Ms. Saltanat Kazi, Fellow, and Shabana Kazi, Fellow and Project Coordinator.
The project was conceptualised around the idea of sustainable schools making sustainable communities, best done through building capacity in and creating an aware citizenry through school children, key as they are to a sustainable future.
Project STARS (Sustainability Tracking, Action and Reporting in Schools) was aimed at encouraging schools to practise the principles of sustainability by focusing on its three  determinants – the environment, the economy and society/culture, in terms of the three Cs- Curriculum, Campus and Community.
Project STARS builds on and takes forward the earlier TERI-DEMPO initiative, "The Vasudeva V. Dempo Climate Change Awareness Programme for Goan School Children 2010-2012". The programme, which was named after the late Vasudeva V Dempo, former chairman of the group who was known for his stewardship of the environment, was launched on his 75th birth anniversary.
The ten schools finalised under Project STARS were those that were part of the earlier climate change awareness project:-
§  Our Lady of Succour High School, Nagoa, Verna
§  Adarsh V. V. High School, Margao
§  Vidya Vikas Academy, Margao
§  Sarvodaya High School, Curchorem
§  Santo Miguel High School, Taleigao
§  Sharda Mandir High School, Miramar, Panaji
§  Government High School, Alto Betim
§  Lourdes Convent High School, Saligao
§  A. J. de Almeida High School, Ponda
§  St. Bartholomew School, Chorao
A video documenting the STARS Project, put together for TERI by Mr. Sainath Parab of Sankalpana, was screened on the occasion in a pre-final version, intended to solicit feedback from those present before formal release.
The participating schools were felicitated at the valedictory for their contributions to making a success of Project STARS. Adarsh V V High School, Nagoa, Margao, won the award for the best environmental initiative, while Our Lady of Succour High School, Nagoa and Sharada Mandir School, Miramar won for the best social and cultural initiative respectively.
TERI provided STARS  schools with hardware – four schools with paper recycling plants, four schools with LED (Light Emitting Diodes) fixtures, a composting station and a sanitation facility at two schools. To handle and maintain these interventions, a number of sensitization and training workshops as also field visits were held. The project also saw Information, Education and Communication (IEC) material being provided to participating institutions.  In addition, schools were found to have led from the front in engaging communities local to them. The school community (approximating to 10,000 in strength) across the 10 member schools are the direct beneficiaries of the resources created under the project. And comprised students, teachers, support staff, parents and the local community.
The function saw a welcome address made by Rajiv S. Kulkarni, Deputy Manager- CSR & HR, V S Dempo Holdings Pvt. Ltd. Chief Guest Mr. Shrinivas Dempo, Chairman, Dempo Group of Companies in his address said, "What started as an experimental programme along with The Energy and Resources Institute turned out be a worthwhile exercise. What we actually started with in the year 2010 when we were celebrating the life of my late father, we thought that we should do something that he strongly believed in. We set out to learn something from the community at large and we must realise what we do in our own community, in our own schools and families and whatever decisions that our parents or students take actually impacts somebody else. Whether it is waterpower or any other resource that we use we are only one in a million or one in a billion here, where as there are rest of your countrymen and rest of the people in the world who are deprived of the these things . One has to remember we may be the lucky few who get our basic resources."
An overview of Project STARS, was offered by Ms. Shabana Kazi, who said, "Project STARs was implemented in 10 schools as a pilot exercise to show how schools could actually practice the principles of sustainability adopting the 3C sustainable school approach, focussing on campus improvements, community engagement and curriculum interventions."
Ms. Saltanat Kazi, summed up the project achievements and said "In addition to building on environmental sustainability in the school, the project enabled schools to engage with the community on environmental and social issues which became an eye-opener for schools and some schools have made this part of their curriculum".
Dr. M. N. Sridar Babu provided closing remarks and proposed a Vote of Thanks.
Rounding off a fulfilling CSR project in the Dempo tradition of social responsibility!