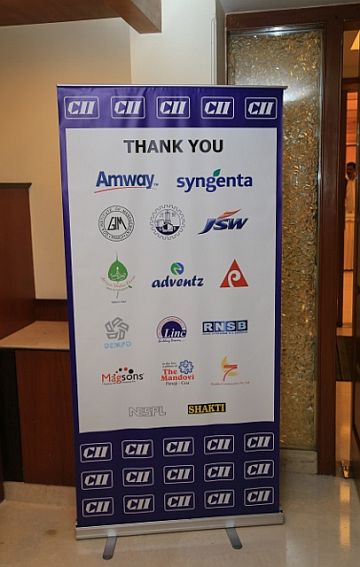 Dempo Shipbuilding & Engineering Pvt Ltd, mindful of its responsibility as an active member of an industry lobby, discharged its pleasant duty of contributing  a share of the expenditure to mark  the Annual Day of the Goa State Office of the Confederation of Indian Industry (CII).
The event was held at local hotel Fidalgo on the evening of Friday, the 11th March, 2016, and was graced by Goa chief minister, the Honourable Laxmikant Parsekar as the chief guest, with Mr. Sanjay C. Kirloskar, Chairman, Western Region, CII, presiding. Among those present at the well-attended function were Mr. Pankaj Joshi, Chairman, Goa Council, and his deputy, Mr. Shekhar Sardessai, Vice Chairman, with Ms. Gazal Bhambri, Head of the Goa State Office prominently in attendance.
The event began with the business session and was followed by the first meeting of the newly elected council which will hold office for the term, 2016-17 and ended with cocktails and dinner.
It is a matter of pride that group company Dempo Shipbuilding & Engineering Pvt, Ltd continues as an elected member of the Goa Council, with past representative Mr B. T. Boke, Senior General Manager (Human Resources) having completed his two-year term and Mr. Sanjeev A. Kanekar, Senior General Manager (Works) coming in as the current representative of the Company on the Council.
Demonstrating how much we at DEMPO value our network of industry and association-connected relationships!