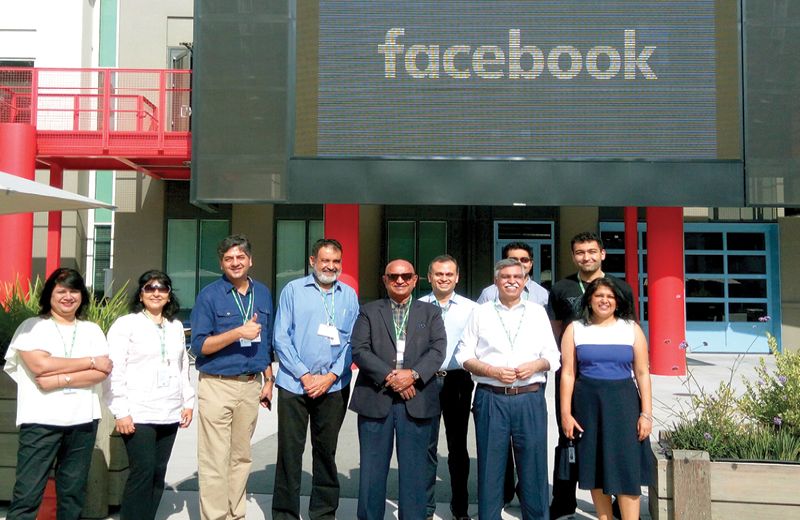 A US-India conference was jointly organized by the All India Management Association (AIMA) and the HAAS School of Business, DC Berkley, to deliberate on the importance of India as the largest growing economy in the world. It was the second US-India conference and it focused on how both the countries could work on the opportunities present in the world.
A CEO delegation to iconic Silicon Valley companies comprised of chairman of Dempo group of companies, Goa, Shrinivas Dempo. As part of its diamond jubilee celebrations, AIMA organized pre-conference visits to the companies.
The delegation was led by Sunil Kant Munjal, president and chairman, AIMA and included TV Mohandas Pai, senior vice president, AIMA, Pramod Bhasin, chairman, Clix Capital and founder, Genpact Ltd, Dr.Arvind Lal, chairman and managing director, Dr Lal PathLabs, Shrinivas Dempo, chairman, Dempo Group, Vikram Chandra, consulting editor, NDTV, Kusum Pai, founder, KSA Social, India, Pranav Pai, founding partner and chief investment officer, 3one4 Capital, Siddarth Pai, founding partner and chief financial officer, 3one4 Capital and Rekha Sethi, director general, AIMA.
The visits included Silicon Valley''s most valuable and innovative companies such as Facebook, Tesla, Google X, NVIDIA Corporation, IBM, Apollo Fusion, Plug and Play Tech Center.
A roundtable was organized with UC Berkeley on coopetition which had case studies on how coopetition has benefitted large corporations in their endeavour for higher growth. It was conducted by Prof. Solomon Darwin, executive director, Center for Corporate Innovation, Haas School of Business, University of California, Berkeley.
Earlier the conference was opened by Carol Christ, chancellor, University of California, Berkley, delivering the welcome address. Richard Lyans, dean, HAAS school of business, DC Berkley, emphasized the importance of structured and relevant education to scale new horizons.
Sunil Kant Munjal, conference chairman and president, AIMA and chairman, Hero Enterprise, said that the phenomenal growth over the past couple of decades, a young and entrepreneurial population and with right direction and policy India is poised to be the star of the future world set up.
In a session chaired by Arun Kumar, former assistant secretary of Commerce for Global Markets and chairman and CEO, KPMG, India, TV Mohandas Pai, Pramod Bhasin reaffirmed the fact that the Indian entrepreneurs landscape has never been more conducive and investors and corporate should look at India seriously. The session was concluded by Shrinivas Dempo, chairman, Dempo Group.
The Inaugural session spoke of unlocking growth opportunities for US firms in the subcontinent. Carol Christ, chancellor, Berkeley University, welcomed all to the conference and stated, "this as an important platform to discuss issues which bring the two countries together and Berkeley University would be glad to play a role in facilitating that."
Dean Richard Lyons reiterated the importance of structured and relevant education in ensuring the new horizons are scaled.
He emphasized on the fact that University of Berkeley and Haas School of Business in particular had lots of Indian students who have benefitted from the education imparted and done very well for themselves in various positions across the valley, United States and in their careers in general.