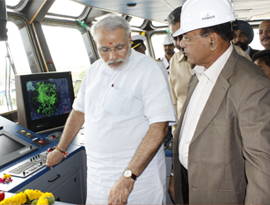 Dempo Group based in Goa, which has diversified business interests in mining, shipbuilding, manufacture of calcinated carbon and pig iron, media, real estate and sports has acquired a majority stake of 74% in Modest Infrastructure Private Limited, a leading shipyard in Bhavnagar, Gujarat, through the group's shipbuilding arm Dempo Shipbuilding and Engineering Pvt. Ltd.,
Modest Infrastructure Private Limited (MIPL) is the flagship company of Modest group promoted by first generation entrepreneurs. A recent entrant in the private shipyard space, MIPL has shown unparalleled growth in the short span of about 6 years and has developed technical expertise to build sophisticated vessels such as product tankers, cement carriers, offshore supply / survey vessels of sizes up to '8000' dwt. MIPL is well known for the quality of their products and has client base all over the world. Apart from the existing Shipyard at Ramsar (Bhavnagar), MIPL is in the process of developing a new shipyard at Ratanpar (about 20 kms from Bhavnagar) with capability of building and repairing ships upto 45000 dwt.
Dempo Shipbuilding and Engineering Pvt. Ltd (DSEPL) has been engaged in shipbuilding and ship repairs for last about 40 years. DSEPL currently builds and repairs inland and seagoing vessels of size up to 3500 dwt. The acquisition of MIPL has been in line with the strategic vision of Dempo Group's Chairman Mr. Shrinivas Dempo to expand this niche business activity of the group beyond the shores of Goa to cater to both international and domestic markets with bigger and technologically advanced vessels to become one of the most prominent shipbuilding organizations in India.
Commenting on the closure of the deal, Mr. Dempo said that considering future growth potential of shipbuilding and ship repairs in India, this is a positive development for Indian shipbuilding industry in general and for Dempo Group's shipbuilding business vertical in particular. He further added that excellent infrastructure created by MIPL with expertise and knowledge in building good quality ships coupled with Dempo Group's experience in shipbuilding and brand image can add considerable value to MIPL to take the company on an accelerated growth trajectory to generate expected sales of about Rs. 1500 crores in next 5 to 7 years. Managing Director of MIPL Mr. Kishor Gambani expressed his happiness about the successful closure and hoped that this endeavor will help MIPL to create much bigger footprint in the Indian shipbuilding industry.
Well known M & A consultants, KPMG and legal consultants, J. Sagar & Associates and Fortitude Law Associates facilitated the closure of the deal.