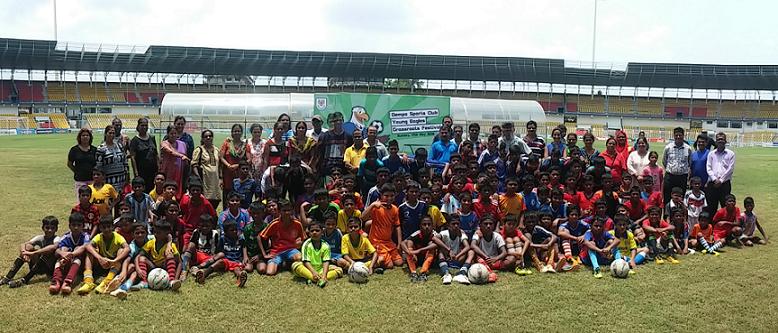 Dempo Sports Club organised the 'Young Eagles' Grassroots festival to celebrate grassroots football day. The event was keenly attended with boys from all over Goa attending the same. The festival was open to boys between the ages of 5 and 12 years and saw lots of promising young footballers participate. First team players, Gurpreet Chabal, Alesh Sawant, Germanpreet Singh, Joy Ferrao, Myron Fernandes and irmal Chettri also came out to support the children and the festivals initiative.
Festival participants were separated into 2 age groups, i.e. Under 10 and Under 12 with boys playing each other in a 4 vs 4 format. This format is one which is used all over the world in grassroots programs and is especially popular in Europe, specifically in Holland which is a country renowned for have some of the greatest football academies in the world. In this format, there is no referee and the children take charge of the match on their own. This is done to encourage leadership and allows the children to come to decisions collectively and as a team. This idea really came through as a lot of children showed great leadership skills and got their teams through to victory.
The second half of the festival saw parents and children alike sit down for a very informative talk on nutrition that was conducted by Luanna Mascarenhas, a Sports Nutritionist with QUA Nutrition. Parents and children were informed on the dietary requirements for children and athletes in the long run. Ms. Mascarenhas went on to encourage both the parents and their children to always adopt a healthy lifestyle with enough room for fun in your diet.
The day concluded with a surprise visit from Dempo SC's head coach Trevor Morgan and several first team players. Morgan did take over the mic for a few moments and addressed the children briefly on a career in football both as a player and as coach and encouraged the to keep practicing and keep focussed and if they do that, then someday they could be the next superstar of Indian football. Trevor Morgan was then part of the prize distribution ceremony which saw Kenny Rodrigues win in the Under 12 category and Patwyn Luke D'Souza win in the Under 10 category.
To bring the festival to an end, the kids were treated to a fun football quiz which Dempo SC first team captain, Calum Angus helped host. The children had a great time as the fun loving Englishman interacted and quizzed all the participants.