Goa's Women Grandmaster Bhakti Kulkarni won the National Women Championship in Jaipur, Rajasthan on Monday. Bhakti is a Dempo goodwill ambassador.
Goa Carbon Limited Goodwill Ambassador and Woman Grandmaster Bhakti Kulkarni won the National Woman Championship finished at Jaipur (Rajasthan) today. Bhakti now will represent India in the Asian Continental Championships and World Woman Championships besides other International events.
She received a trophy at the hands of Mr. Kaushal Kumbhat, MD of Urbana Group, Dr. Anupama Soni (Miss Asia) and Bharat Singh Chouhan (Hon Secretary, All India Chess Federation). Bhakti was presented a special trophy by ONGC for her dynamic play.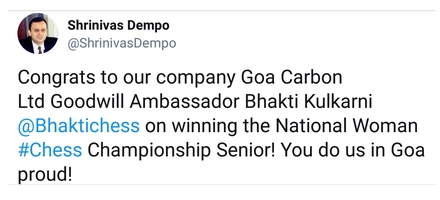 Incidentally Bhakti, who had won many National Championships in Junior category became the first to bring National senior title to Goa. Now she holds the distinction of winning National, Asian and Commonwealth Championships in both Junior and senior categories.
The newly crowned National Woman Champion in her speech at a glittering ceremony in Jaipur thanked and gave credit to her sponsors Goa Carbon Limited, her coach Dronacharya Awardee Raghunandan Gokhale and her parents for this milestone. She also mentioned Air India who takes care of her domestic travels.
The General Secretary of All India Chess Federation Bharat Singh Chouhan lavished high praise on Bhakti and her achievements.
While speaking to the media, Bhakti mentioned Mr. Shriniwas Dempo and Goa Carbon Limited for encouraging and helping her put Goa on the National and International maps. The National Woman Champion from Margao thanked GCA President Goa's Power Minister Mr. Nilesh Cabral and AICF Treasurer Mr. Kishor Bandekar for their contribution in developing chess in Goa.
Bhakti has been invited by the United Arab Emirates Chess Federation to take part in Sharjah Cup Women Championship next month.