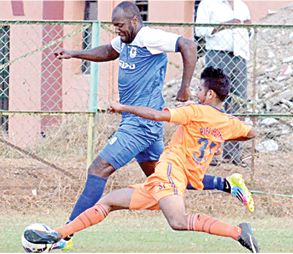 Despite their key players in action in the ongoing Indian Super league ( ISL) , Dempo Sports Club started their second division I League campaing on a promising note. After going through starting blues they overcame PIFA Sports through a penalty goal by Milagres Gonsalves , to earn full points in the opening match played at Raia panchayat grounds on Sunday.
The all important goal came in the 42nd minute of the first session of play as Dempo playmaker Stephen Fernandes was brought down by PIFA keeper Karun Kumar in the box as the former was in the process of scroring.
Referee Fasi Salahudeen had no hesitation to point to the dreaded spot and striker Milagres Gonsavles ,who stepped in to take the shot,had no hesitation is sending the ball to the right of the rival keeper to give Dempo the lead.
Dempo SC played with extra caution in the opening half an hour. PIF A started with four U-22 players and held threats through their counter raids. Dempo, on the other hand, though unable to make play through their midfield, used the flanks to hold their opponents in their own half. As susch , the two goalkeeprs had little to do in this period.
Dempo S.C. could have scored atleast three goals from the opportunities they created,two of which saw promising central midfielder Veliton Cruz hitting the post in 27th and 65th minute of play.
As a matter of fact, it was Dempo S.C. who were all over the PIFA territory for most part of the play,but what they lacked was the killer sting and whenever they displayed it their shots either went wide or hit the post.
Dempo's dominant play mostly revolved around medio stephern Fernandes,Aiken Dias and Veliton Cruz who set up attacking play,while turning defensive moves into attacking ones, by using short, incisive passes.
PIFA who were defending their citadel ,did come up with some moves which were mostly confined to the midfield.The tight Dempo S.C. defense did not allow the PIFA strikers to have a clear look at their goal,resulting in giving a field day for keeper Tyson Caido who positioned himself well to demonstrate his confidence under the bar.
Milagres Gonsalves could have oponed the account in the very first minute of play in favour of Dempo but his header kissed the post and thereafter it was Dempo S.C. who dictated terms without finding the mark except for that penalty kick conversion.
Stiker Josimar Da Silva Martins and Milagres Gonsalves could have done much better when chances came to them,but that had not to be.
Dempo coach Mauricio Afonso agreed that his team could have won on a bigger margin, during the post match briefing."Josimar needs some time to settle down as he has just arrived," said mauricio when prodded on the Brazilians performance.
PIFA coach Abdul Siddique flet that a draw would have been a good result .