Important as the 3-year STARS Project was to DEMPO in terms of its aims (taking forward the climate change and sustainability awareness message for Goan school children by practical means), it was a good idea, we felt to ask our implementation partners, the reputed think tank TERI (The Energy & Resources Institute) at their Goa Office to sum up the Project for us….
Project STARs: A Synopsis
The vision of Education for Sustainable Development (ESD) is of a world in which everyone has the opportunity to benefit from quality education; and learn the values, behaviours, and lifestyles required for a sustainable future. It calls for sustainable development to be integrated into the curriculum in a holistic manner, rather than being taught on a stand-alone basis. ESD is all about education 'for' sustainable development, rather than education about sustainable development. A sustainable school encapsulates these principles through the adoption of 3Cs; i.e. improving campus efficiency, integrating ESD into the curriculum and developing community partnerships in order to strive towards sustainable development.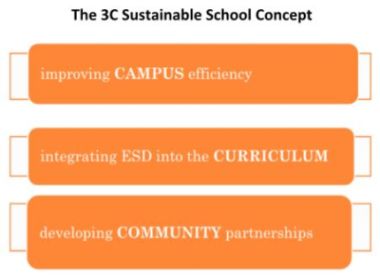 Project STARs – a pioneering ESD project in the state of Goa explored the principles of sustainable development through the adoption of the 3C sustainable school concept. It was a three year project (2013-2016) jointly implemented by the Dempo Group of Companies, and The Energy and Resources Institute (TERI) across 10 schools in Goa. Project 'STARs' sought to inspire and encourage schools to practice the principles of sustainability by focusing on its environmental and socio-cultural performance.
Specific objectives of the project were to:
Promote resource efficiency in schools by putting identified interventions in place within their campuses.
Build skill sets of students to help them deal with various environmental challenges, they are faced with on a daily basis.
Motivate and encourage schools to involve their immediate communities, so as to address socio-environmental issues of concern in their neighbourhoods.
Promote the importance of valuing and preserving local culture and knowledge, in the context of sustainable development.
Disseminate knowledge on key sustainability issues in the region.
Baseline assessments carried out at the start of the project revealed certain gaps that required to be addressed in the ten project schools. To improve the environmental sustainability of the schools, the project intervened at four schools with paper recycling machines in order to help them deal with their waste paper efficiently. In another four schools, it replaced their conventional lighting systems with LED (Light Emitting Diodes) fixtures in order to improve their energy efficiency. At one school, a composting station has been built to help the school deal with its organic waste efficiently, while in another school, a sanitation facility was built so as to provide its students with a sustainable and healthy learning environment.
To operationalize these facilities and to ensure successful functioning, various workshops were conducted through the project. Awareness and training workshops on paper recycling, natural resource conservation, WASH (Water, Sanitation and Hygiene), composting etc. were conducted for the project schools. Field visits have also been organized to sensitize students to the local flora and fauna of the state. So as to complement the curriculum; resource material has been provided to all project schools. In order to enhance teaching competencies, training workshops were organized for teachers on becoming better educators. Student workshops were also held on value, social and character education being integral to ESD.
In addition, schools have taken the initiative to pro-actively engage with their surrounding communities by executing various socio-environmental campaigns in their neighbourhoods. They have also undertaken the documentation of their locality, in terms of its history and cultural significance. This exercise has directly contributed to the sensitization, awareness and education about local culture and traditions which unfortunately is stealthily on the decline in today's day and age.
Some of the key outcomes of the project are as under:
Approximately 0.5 tons of waste paper has been recycled by all the schools over the academic year 2015-2016. It has been observed that every school can recycle at least 20 kgs per month (for every 500 students). Recycled paper was used as chart papers, stationery, greeting cards, files/folders etc.
The gross annual C02 emission reduction from the LED based intervention in the four schools works out to approximately 37 tCO2/MWh.
Approximately 10-15 kgs of wet waste has been composted till date at one school.
The sanitation facility is currently serving the kindergarten section comprising nearly 100 students.
Dry waste recycled showed a major increase over the course of the project – from 93 kgs per month to approximately 705 kgs per month, collectively across the member schools.
A perceptional feedback from all schools indicates a strong positive impact on student behaviour, attitude and action.
Established / strengthened school-community linkages across various sustainability domains.
Increased sensitivity to socio-cultural issues and enhanced awareness about local culture and knowledge in the project schools.
The performance of all the 10 schools was evaluated under three broad categories – environmental, social and cultural. Under each of these categories, the work carried out by each school was appraised and evaluated. School efforts to effectively implement various initiatives along with an assessment of the mechanisms adopted so as to sustain the work undertaken were also measured. All project schools worked to enhance their sustainability, however some schools performed exceedingly well, and these were felicitated as the best performing schools under the three different categories:
Environment category: Adarsh V.V. High School, Margao
Social category: Our Lady of Succour High School, Nagoa, Verna, and
Cultural category: Sharada Mandir School, Miramar
Project STARs has indeed been successful in its mission which was to improve environmental and socio-cultural sustainability in schools by focusing on the '3C Sustainable School' concept. The project has also developed a video documentary that showcases the project activities undertaken in the project schools in order to inspire and motive more schools to adopt the sustainability pathway. It is strongly hoped that the other schools in Goa will also follow suit and become sustainable school role models for the state of Goa.