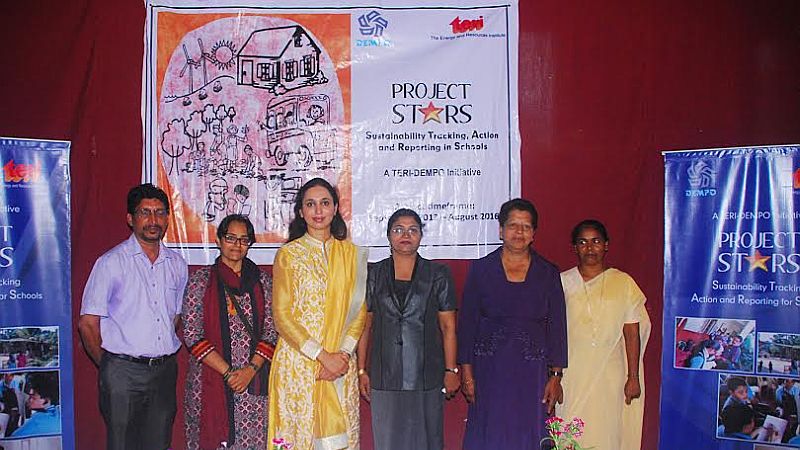 Project STARS, a TERI-Dempo partnership is working towards encouraging schools to practice the principles of sustainability by focusing on its environmental and social performance – both tied together with a strong cultural thread. As part of this initiative, Chorao based St. Bartholomew's School received a new sanitation facility for the benefit of its young students. The facility was inaugurated by Ms. Pallavi S. Dempo, Executive Director, Dempo Industries Pvt. Ltd and Trustee, Dempo Charities Trust, in the presence of Marcelia Gomes, Social Worker and ex-headmistress, officials from TERI (The Energy and Resources Institute), the Dempo Group and the school students and management.
Project STARS, (Sustainability Tracking, Action and Reporting in Schools)consolidates the TERI-DEMPO partnership by carrying forward and building upon the work carried under the previous TERI-Dempo initiative, "The Vasudeva V. Dempo Climate Change Awareness Programme for Goan School Children 2010-2012". The current partnership between TERI's Goa Centre and V. S. Dempo Holdings Pvt. Ltd (DEMPO) is in the nature of a unique, three-year intensive education and action programme (2013-2016) on sustainable schools in Goa.
The project works with a cross section of 10 schools across the states that were a part of the earlier initiative in 2010-2012.  St. Bartholomew's School in Chorao is one of the selected ten based on their commitment and performance in the earlier climate change awareness project.
Said Chief Guest Pallavi S. Dempo, at the inaugural of the facility, "The STARS Project makes us aware of how we can take care of the environment and how we can keep it greener, cleaner and safer . I feel that it's important that organisations support and encourage schools as a whole and promote such excellent projects and programmes which help society and the community. When we educate our children, we educate a family and a community. Project STARS is meant to make a guiding star of each one of you."
Added Ms. Avelin Dancho, Headmistress, St. Bartholomew's School, Chorao, "We thank Project STARS for making the efforts to aid the school and produce the required sanitations facility." The spark given to us by TERI-Dempo will be carried forward through various socio-environmental and cultural activities."
Said Guest of Honour, Marcelia Gomes, Social Worker and Ex-Headmistress, St. Bartholomew's School, Chorao, "Project STARS is one project which aims to protect our environment . I am so glad to see that TERI has still continued to support and carry out these initiatives towards the environment."
Sharing an overview of Project STARS, said Ms. Shabana Kazi, Associate Fellow, EYSD, TERI, Goa, "project STARS focuses on the environmental, social and cultural sustainability of schools, and hence intervened to address a sanitation gap at this particular school to provide students with a sustainable and healthy learning environment. Awareness and sensitization workshops on hand washing, health and hygiene will be organized subsequently to complement the facility here."
The school community at the ten member schools are the direct beneficiaries (approximately 10,000 in number) of the resources created under the project, as the interventions reach out to a large section of the school, including teachers, support staff, parents and the local community.