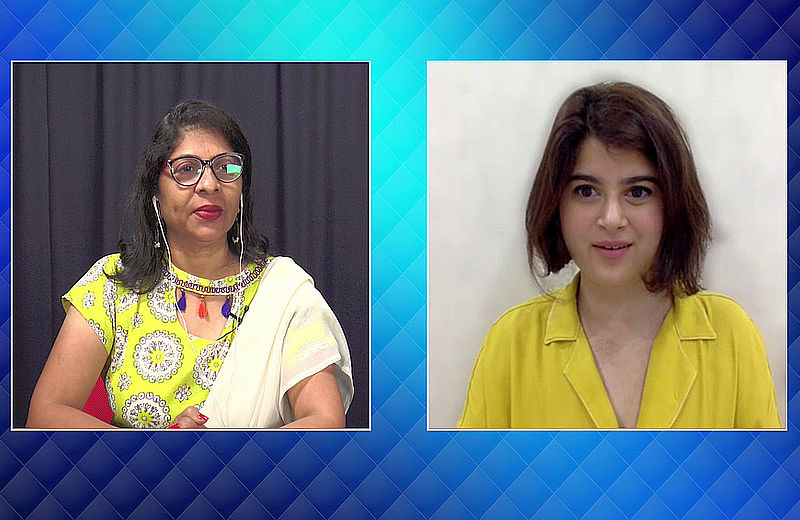 Everything, EVERYTHING in your house must serve a purpose! Either it must be useful or one look at it should bring you happiness; right from your clothes to a tiny spoon in your kitchen, believes Karishma Khanna, a certified professional organiser and founder of Sorted Homes. Khanna who was the guest on The Navhind Times, Talk from the Heart show, spoke extensively on the benefits of decluttering the home and gave tips on how to make the task simple and easy. The show that aired live on the Goa 365 channel on Sunday, December 20, was not just helpful but also an eye-opener to the world of sorting and organizing.
Khanna, who is called, India's own Marie Kondo, has lived 80% of her life away from her home. All through her years in boarding school and from the young age of 6, she found herself organising her trunk-worth of belongings into a tiny locker. She spent the next decade sharing flat spaces which were rather compact and found herself optimising the small spaces in an endeavour to make each pad a home, through organised and decluttered living.
Decluttering your home is not a simple task and one can even go so far as to say, it is not something that one looks forward to. Agreeing with this fact, Khanna said, "Most people often take to cleaning just before a festival or a function in the home. The method they use is to dust or wash items and then put them right back where they took it out from." This method she stressed is not the way to move forward. Expounding further, she said, "We need to look into every single thing we own, as every item, big and small has its own energy and when these items are sitting there without being used, they trap energy." Once we keep only things that we use, the good and positive energy then starts flowing and circulating, she explained.
Hoarding is a condition that afflicts many and this, said Khanna, happens because we have learnt it from our mothers and grandmothers. "They always advised we keep the old things as it would come handy some day. It was true for them as their generation saw a lot of strife. However times have changes and with the easy accessibility of things, this idea of hoarding does not apply anymore. In fact the cost of keeping the old stuff is much more than the cost of buying a new item," she stated.
Speaking on the topic of how to handle extra gifts one gets for birthdays and weddings, Khanna answered with a quotation of Marie Kondo and said, "The only purpose of a gift is to be received. When someone gives us a gift, it is a gesture of love and/or appreciation. So when we receive these gifts, we have accepted that love/appreciation hence what we do with that gift later does not take away from the emotions." Illustrating her point with various examples, she showed the wisdom in keeping only what is going to be used and re-gifting what one does not need.
Letting go of gifts may be difficult but definitely not as hard as giving away things that have a sentimental value. All of us have at least one item that is very dear to us and we hold on to. From our wedding garments to our children's baby clothes and many other items that we associate with an important event, we love to keep them. "Objects that have sentimental value always bring us joy and happiness and hence need to be kept where they can be seen by us or used. If these objects cannot be used or seen, they need to be discarded. Again as mentioned before discarding them does not take away the emotions and memories associated with what we feel or have," she explained.
Many tips were shared by Khanna with regards to sorting and organizing clothes, jewellery, make-up, toys, etcetera. She also gave suggestions on how to make the bedroom into a place of serenity and inspiration. "Aroma therapy, extra pillows, decluttered table tops, plants and flowers are some ways that the bedroom vibe can be enhanced," she said.
Sorting your home is not for aesthetics and ease of function alone. It has the power and potential to change your life, she reiterated as the talk came to an end.