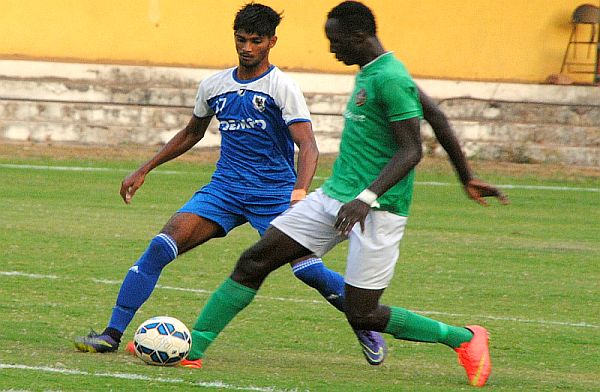 Dempo SC outclassed Kenkre FC 4-0 in the AIFF Second Division Western Conference I-League match played at Tilak Maidan on Sunday, the 27th December..
Strikers Beevan D'Mello and Milagres Gonsalves scored a brace and an assist each in the club's big win.
With the likes of Laxmikant Kattimani, Debabrata Roy and Jewel Raja back in the squad Dempo SC dominated the play from the very first whistle and scored the first goal in the 9th minute through Milagres Gonsalves off Beevan D'Mello's low cross from the left flank.
Kenkre FC were compelled to play in their own half for major part of the first half as Dempo SC's back line stood intact with Chika Wali and Mohammed Ali shielding the defence.
Shallum Pires, and Jewel Raja well supported Dempo's strike force with constant through balls and long passes which saw the hosts soon doubling the lead in the 27th minute when first goal scorer Milagres Gonsalves crossed in an aerial ball for Beevan D'Mello for a simple tap-in,  rendering the score 2-0.
Within minutes, Beevan D'Mello had the chance to score his second, but the rival goalkeeper Narinder Singh pulled out a splendid save in a  one-on-one situation to make amends for his earlier mis-pass that went on to build up the move.
Dempo further inflated their lead in the 35th minute through Beevan D'Mello off Jewel Raja's  free kick. Dempo led 3-0 at the break.
Post resumption, Dempo started with possession and play and were twice denied by the post. First, Jewel Raja's shot hit the cross and soon it was Nickson Castanha's effort that beat the entire defence but only to see his shot denied by the post.
Kenkre FC had the golden opportunity to reduce the lead in 64th minute with Yao Bernard's low shot beating the keeper but coming off the post back into the play.
Dempo were forced to play the last 22 minutes with 10 men as Jewel Raja was given marching orders in the 67th minute when the former ATK player kicked Kenkre FC player Yash after he was tripped by the latter.
The final 20 minutes saw the Mumbai-based team pile up pressure on the hosts but they simply could not penetrate the stubborn Dempo defence. At the other end, Milagres Gonsalves scored the fourth of the day in the dying minutes of the match with a neat placement after dribbling past Kenkre FC defence.
Kenkre's Yash Mahatre was also sent off for double bookings in the second-half's add-on time.