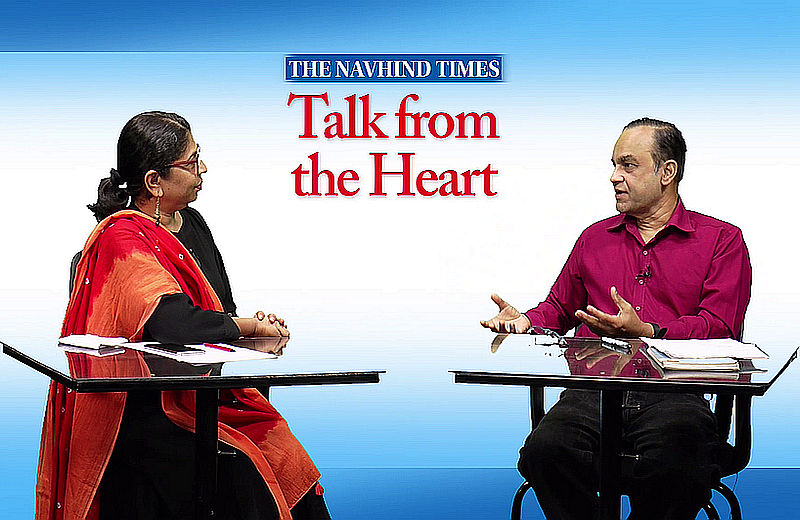 It is said that fear of public speaking comes second universally only to the fear of death. From a slight nervousness at the thought of giving a speech or making a presentation to uncontrollable trembling, sweating and a racing heart, individuals show other physical and verbal symptoms as well. To understand what causes this fear and how to overcome the obstacles, The Navhind Times invited, Distinguished Toastmaster of Toastmasters International, Ashley Lobo on its show, Talk from the Heart. The show aired live on Sunday, January 24, on the Goa365 channel as well as on the Goa365TV page of Facebook.
A banker by profession, Lobo worked in the USA for 20 years where he was a VP of multiple Wall Street banks, before he retired. Since joining TI (Toastmasters International) in 2001, he has mentored many other toastmasters and has also been part time faculty at multiple colleges teaching communications.
Sharing his story from not being able to speak at his sister's 50th birthday to joining TI and then becoming a trainer and mentor, he said, "I definitely had that fear and for my sister's birthday I could only speak for 35 seconds. My sister was fine with it but my brother had a hard time understanding why I couldn't speak when I had flown all the way from India to the US for the special occasion."
Lobo is of the opinion that learning public speaking has many benefits and added, "Of all the soft skills, public speaking is the most important. No matter which profession you are in, it is one skill that is useful in all fields and not just in your professional life but in other areas as well. As much as public speaking is about speaking however a major part of it is being able to listen and this is another vital skill that will hold you in good stead."
Agreeing to the fact that many individuals have the fear of public speaking, he also explained the reason for it. "The fear of being ridiculed is the most common reason and this may have set in during school or childhood. It could have been a mispronunciation while reciting something in kindergarten which the other children might have made fun of, or any other similar incident that might have triggered that feeling. Of course some people are painfully shy and for them public speaking is often more difficult."
Illustrating his points with examples that viewers could connect with, he demystified the fear people have of speaking in front of a large audience. "In a one-to-one or small group conversation, the speaker is getting instant feedback but in a large group that feedback is not so forthcoming and sometimes non-existent. So the speaker is thinking, 'Are my audience listening, are they interested, am I on track, etcetera.' This leads to nervousness hence many cannot speak or just dread even the thought of public speaking."
Knowing your audience, Lobo stated was extremely important to write and deliver a good speech. "Not just the content but even the delivery has to be tailor-made for different audiences. You cannot give a boilerplate speech and expect it to be effective with all audiences. The audience is very important hence you need to tell them what they want to hear," he stressed.
Another point he emphasized, was the need to practice to improve skills in public speaking. "It is critical that you keep practicing because the more you practice, the more you realize that your fear is not true," he stated. Giving tips and suggestions how to practice, he said "practicing in front of the mirror was not advisable. The mirror will not give you any confidence as the mirror will not laugh at you or point out your mistakes. The same applies to practicing in front of your family. They will be nice to you and may not give honest feedback." He recommended speaking in front of multiple people and/or joining a speaking group. Honest feedback, he highlighted was crucial to understand your mistakes and become a better speaker.
Answering a viewer's query regarding accent, he answered, "People are not looking for complete fluency but are definitely looking for confidence hence first work on the confidence level and then the accent." He again stressed on the need to join a speaking club to improve in this area. For those looking for neutralising their accent he suggested using the internet to listen and practice.
Many other practical tips were given by Lobo that will definitely come handy for those who are afraid of public speaking and help them become good, confident and powerful speakers.
Tips on how to write/prepare a speech by Ashley Lobo
Pick your topic, based on the audience interest.
Decide the kind of speech you will deliver (entertaining, educational, inspirational, persuasive)
Spend 10-15 min and list all the aspects of the topic, in 1-2 words.

Do not worry if the aspect is important.

Pick and rank the 3-4 most important from the list of points

Pick and Rank based on the target audience.

You will end the speech with the highest ranked point.

Start by writing the ending.
This is the takeaway message.

Write the start.
Note down the 3-4 points you picked
Write the transitions between points.

Transitions are the connection between points.

Now add the words for each point