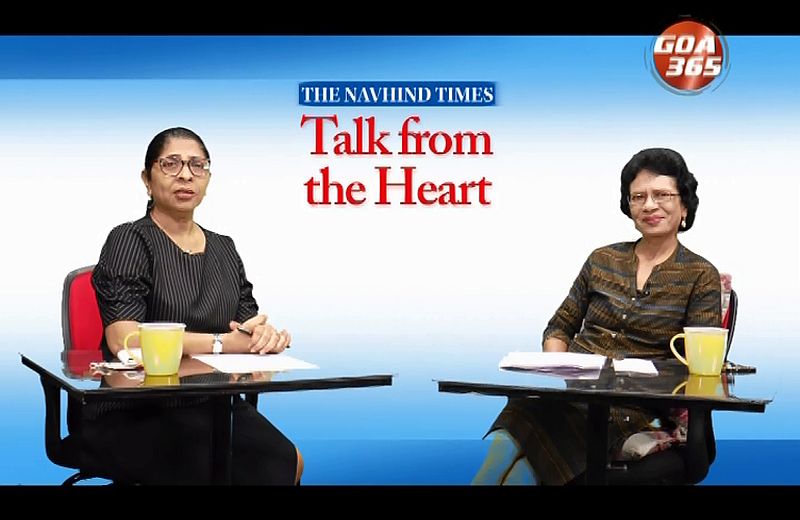 With the increasing competition for job vacancies in the employment world today, it is more important than ever before, to develop strong and effective interview facing skills. An impressive resume may get you a call for an interview but securing the job all depends on how you answer and perform at the interview. Good grades and appropriate experience alone are not enough as employers are looking for much more. To help understand what it takes to ace an interview, Human Resources professional, Clare Noronha, was invited as a guest on The Navhind Times, Talk from the Heart show that aired live on the Goa 365 channel on Sunday, February 21.
Noronha who has over twenty years experience as a HR professional, has worked in diverse areas of management in the corporate sector. From manufacturing to hotels and multi-national companies, she also trains and mentors students from various streams. Expounding on the importance of preparing one's self for an interview, she said, "This is especially true for those who are just starting out with their careers as compared to those who already have a few years experience. A fresher needs to firstly know what they want to do and then what to expect at the interview. This equips them with the knowledge how to answer questions asked by the interviewer." Knowing one's skills, strengths and weaknesses, she emphasised, was crucial before an interview.
The first step in being called for an interview is making a resume that grabs the attention of a prospective employer and hence has to be drafted and designed with care. The role of a resume is not just for giving information about a person's qualifications, skills and experiences; it is also a marketing tool. Emphasizing the need to have an attractive, logical and informative resume, she said, "Resumes should be made according to one's needs and the job being applied for. It should not just be copied from the internet. A resume that has not been done well, will not make it to the employer's desk. You can miss out on a lucrative job because of a badly designed resume." Here she also stressed on the need for honesty. "It is imperative that the resume does not have any fabricated information. Remember it is going to be scrutinized by the interviewer and you will be questioned about the same. In addition the matter on the resume should be ideally drafted in a manner that is easy for the interviewer to understand and gauge the potential and suitability of the candidate for that particular position."
Besides having a well drafted resume, Noronha also highlighted the role of internships. "In today's day and age and in fact even in the future, the focus is and will be, not only on academics but also on experience and extracurricular activities. Internships give students an opportunity not just to learn about the industry but also to find out where they fit in and what they are good at. Students can in turn then indentify areas where they need to develop themselves. Internship experiences are formative and foundational to a career." With various examples she explained the other benefits of internships as well. "Moreover learning how to answer at an interview becomes easier if one has done some internship," she added.
Body language besides good soft skills like written and oral communication, she said were other areas that students need to work on. "How you sit, speak and generally communicate during an interview is crucial if you want to ace it. Just speaking is not enough but speaking confidently is what it takes to convince the interviewer that you are the right fir for the job," she added. She then explained EAR, an acronym which stands for eye contact, acceptance (how you are being accepted by the interviewer) and replying/repeating when required. "In addition, research about the company that you are going for an interview to is needed as well. The vision, mission and some history of the company is a must. This shows your interest and readiness to work to the interviewer."
Various other topics were discussed and Noronha gave many tips on how to ace the next interview.