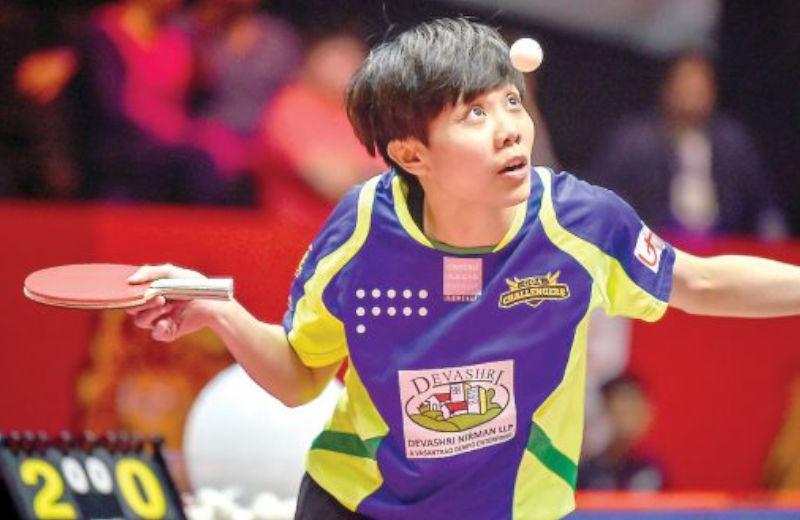 India's star player Sharath Kamal tapped into his bag of experience to give Chennai Lions a nerve-wracking 8-7 victory over Goa Challengers in the Ultimate Table Tennis here on Wednesday.
The World No 32 first shepherded a shaky Petrissa Solja to collect two crucial Mixed Doubles points for his side; he, then, absorbed a big scare from Amalraj Anthony to add two more into the team's kitty in the reverse Men's Singles.
His 4 points, coupled with 2 from Portugal's Tiago Apolonia and 1 from Petrissa, meant that the Lions needed only 1 more point in the fifth and final clash.
The Women's Singles, featuring two Indians, saw Madhurika Patkar steal that solitary point against a rampaging Archana Kamath to seal the win for the Lions. Madhurika lost 1-2 but pumped her fist in delight at saving the day for her team.
Earlier, Goa's Cheng I-Ching too survived a minor scare to put her side ahead in the opening Women's Singles.
The World No 8 from Taiwan spurted to a big 6-0 lead in the first, only to see Petrissa claw back into the game, allowing it to go all the way to 10-10.
Cheng, however, unleashed a powerful forehand to clinch the crucial golden point and the first point for her team.
She was on song in the second set, though, racing away to a commanding 9-1 lead. She conceded only one more point to give herself a nice big win.
The final set, however, saw a different story unfold. Petrissa played a steady game to win it 11-6, tossing one point into the Lions bag.
In an all-European Men's Singles clash, Portugal's Tiago Apolonia put up a dominant display to bring the Lions back into the game. Tiago pulled out his big shots to unsettle Alvaro Robles of Spain.
Tiago won the first set 11-5 but lost his way in the next, capitulating to a 2-11 defeat. He, however, regained his composure to clinch the third set 11-7.
In the crucial Mixed Doubles, Sharath and Petrissa fell behind straight away, losing to Amalraj Anthony and Cheng I-Ching 9-11 in the first set. Sharath, however, went on the offensive to collect crucial points to set up an 11-6 win.
The decider was a humdinger, with Sharath-Petrissa conceding the early advantage. They, however, fought back from 4-8 down to make it 10-10, before claiming the golden point.
In the reverse Men's Singles, Sharath once again began on the wrong foot, giving away the first set rather easily at 2-11. He, however, was back to his usual attacking self, jumping to a 6-1 lead. He held on to the advantage to close it 11-9.
In the decider, he was well poised at 10-6 but Amalraj, looking as cool as is possible in a cauldron, made it 10-10. It suddenly became a tense encounter, ending with Sharath's slow, low serve which brooked no response from Amalraj.
It is a great start that will get better: Amalraj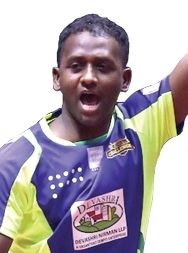 Goa Challengers were nearly there. In the end, the last push went missing and the roar from Chennai Lions was enough to let them past the spirit of Goa Challengers.
In a story of so close and yet so far, Goa challengers once again showed why they are the strongest challengers for the crown in their debut season of Ultimate Table Tennis (UTT) at the Thyagraj Stadium in New Delhi.
"We started very well and we finished well. Between the first game and the last, we slipped in the middle and had we put in a little bit more of pressure in the doubles match, the result would have come our way," Amalraj Anthony, captain of Goa Challengers told The Navhind Times over the phone after the match.
"It was just that doubles game that made the difference," added Amalraj.
"It was a very close match and there really wasn't a big difference between the two teams. I think that as a team we are doing better than the others. This is just our second match and no team has taken any tie the way we have done. We have time to recover for our next match and that will be another story," promised Amalraj.
"The women players in our team are the strong points that we lean on. They won both their matches and with them the teams finishing and starting is superb. They have shown in the last game and today that they are mentally very strong and that is an asset. It makes a big difference to have women of such character in the team," stated Amalraj when asked to express himself on both the two wins recorded by two women.
"Despite today's loss, we are confident that we are on our way of winning our maiden title on our debut because we are not only the strongest side on paper but on the table as well. We have a balance that most teams do not have. This is a great start that we have had and it will only get better as the competition intensifies," concluded Amalraj.